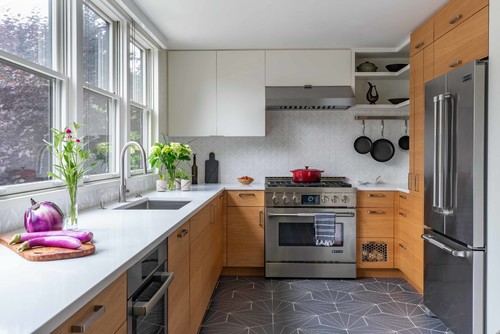 midcentury kitchen with white chevron blacksplashes and stainless steel gas range
In this small kitchen, there is a contrasting layering. Like the oak kitchen cabinets combined with the white solid-surface countertops for a nice contrast. The texture of the cabinet itself is clear, and the silver finger pulls give people a refreshing feeling. What's more, the addition of a stainless steel gas range enriches the color of the kitchen and gives it a stylish appearance. The white chevron backsplash complements the tile floor, and the pattern on its finish creates an optical illusion. Overall, the color scheme of this kitchen is quite rich.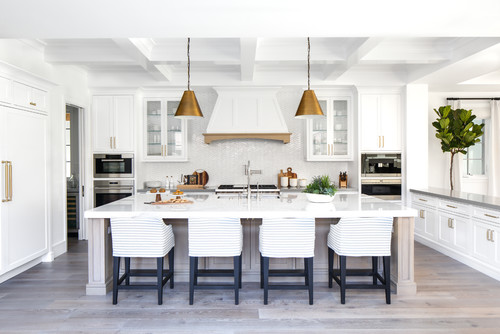 modern costal white kitchen with big island and chevron backsplashes
How to match a white kitchen ? The fresh and elegant white will give people a rich and delicate aesthetic feeling. The simpler the color, the more it can fit people's hearts and give them a comfortable experience. Here, light wood floors and islands make the perfect monochromatic transition, balancing out the white look and bringing a sense of warmth. The new and stylish look of the brass pendant lights adds a touch of glamor to the kitchen. The built-in cabinets, combined with the white shaker kitchen cabinets on the left and right sides, add a fashionable touch to the overall design.
About White Chevron Kitchen Backsplash
If chevron backsplashes are what you're looking for, here are some kitchen design ideas. A white chevron backsplash gives the interior design a contemporary feel. It is an attractive backsplash that is both contemporary and cool and may be installed quickly and seamlessly.
There are many various kitchen styles that incorporate white chevron backsplashes, including classic, transitional, contemporary, modern, etc. Based on your preferences, you can choose the ideal chevron pattern that will win your heart and become your kitchen's masterpiece.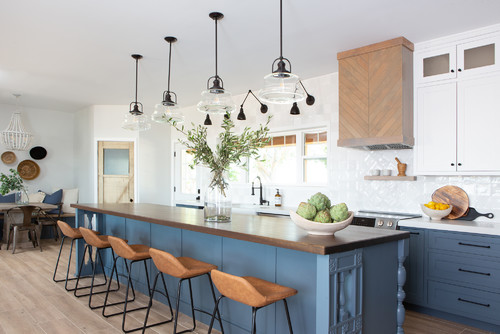 white chevron backsplashes and wall lamp in crafted farmhouse kitchen
A white chevron backsplash complements the outside light to brighten up the kitchen. The presence of the wooden range hood balances the single white appearance and makes it more vivid. Interestingly, a small-area wood shelf is also designed under the range hood, which provides convenience for placing small items. Black wall sconces set above the windows provide a strong contrast to the chevron backsplash. Blue kitchen cabinets paired with wood countertops create an eclectic look that brings freshness. Moreover, the five counter stools also complement the countertop, creating a sense of texture and dynamics in the space.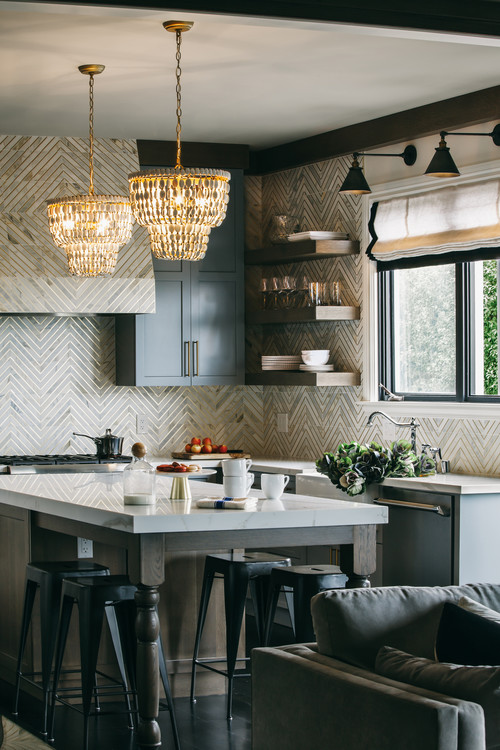 a warm and refined atmosphere with gold chandeliers and chevron backsplashes
The lighting in the whole kitchen is dim, but with the brass chandelier hanging from the ceiling, there is a trace of retro flavor, which creates a warm and refined atmosphere to the whole space. And the chandelier gives the chevron backsplash a fresh look. Its finish, particularly the criss-cross color that extends to the range hood, adds a modern touch to the kitchen.When paired with the pendant lights, the marble island creates a sense of luxury in this small kitchen, enriching the color of the interior.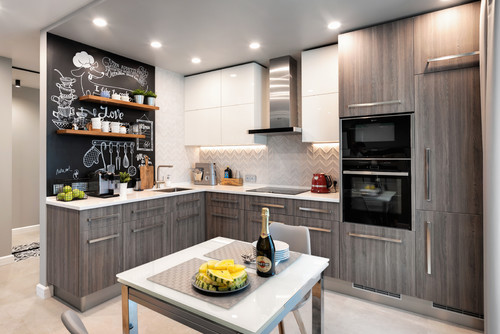 a vivid white chevron backsplashes and black poster in contemporary kitchen
What a cozy kitchen! The cabinets in this kitchen can't help but be reminiscent of a rustic kitchen due to their finishes and colors, which have a warm feel. Meanwhile, when combined with black built-in kitchen cabinets, it enriches the appearance of the cabinet surface and creates a dynamic beauty. With the help of lighting effects, the patterns on the white chevron backsplash become more vivid and come to life. Notably, a black poster on the wall not only creates a sophisticated look but also makes a statement.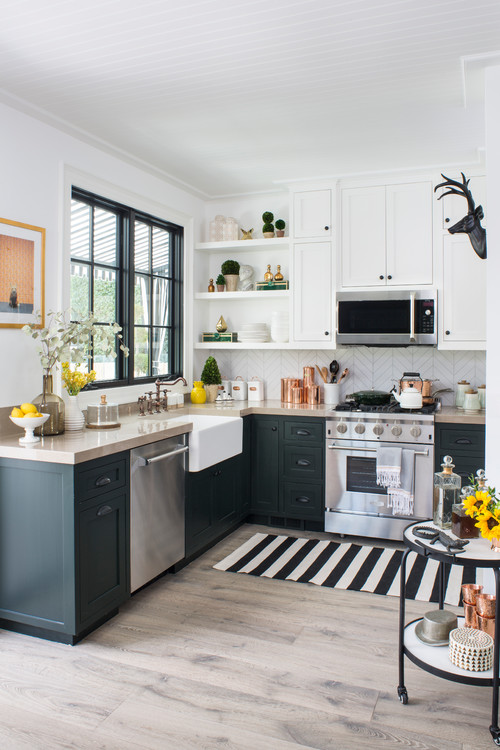 open l-shaped kitchen with white shaker cabinets and black-and-white rug
In this kitchen, the designer has smartly combined white shaker kitchen cabinets with wall cabinets for a unique look that provides convenience. By the way, an accent of potted flowers brings a biophilic vibe to the kitchen. More importantly, the black deer decoration seems to bring us into the atmosphere of nature. The black and white rug brings warmth with the help of this light wood flooring.
chevron white tile kitchen backsplash
One of the most fashionable kitchen backsplash ideas is one with a chevron design. Chevron patterns will always be in vogue. This pattern is common on rugs, but it also looks fantastic on walls. You can paint solid glass or tile in unique patterns yourself or look for pre-formed strips of the material. Chevron patterns in subdued colors give a serene refinement, while tiles in various colors create a more dramatic appearance, particularly white. White is luminous and spotless, understated and beautiful. A white line and a few white spots here and there in the decorative design may emphasize its fantastic impact. White tile accents also make the room seem fresh by making it clear and clean.
a trendy design with exquisite pendant lights and white chevron tile kitchen backsplashes
The first thing that catches the eye is the chandelier hanging from the ceiling, as if wrapped in a mass of things. Its novel look brings an element of humor to the kitchen. The white chevron tile backsplash is easy to spot, and the bright look is complemented by the glass countertops, both of which bring a bright effect to the kitchen. The combination of the countertop and the undermount sink creates a more simple and beautiful appearance. The oak island achieves perfect harmony with the floorboard, and the mash-up of wooden stools enriches the color of the kitchen and brings a warm feeling.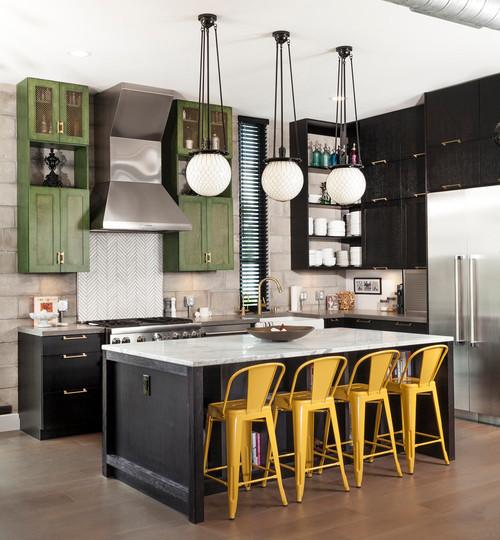 industrial kitchen with small area chevron backsplashes and yellow bar stools
The industrial-style kitchen design has always been the favorite of the fashionable new crowd. The rough structure reflects a distinct personality. Light grey brick walls and bright lighting create a warm and bright living space, plus a small area of white chevron backsplash gives the room a stylish appearance. Green and black front cabinets bring variety to the kitchen, enriching its color. The marble island is paired with four yellow counter stools, which not only create a delicate appearance but also accommodate many people for dining, projecting individuality.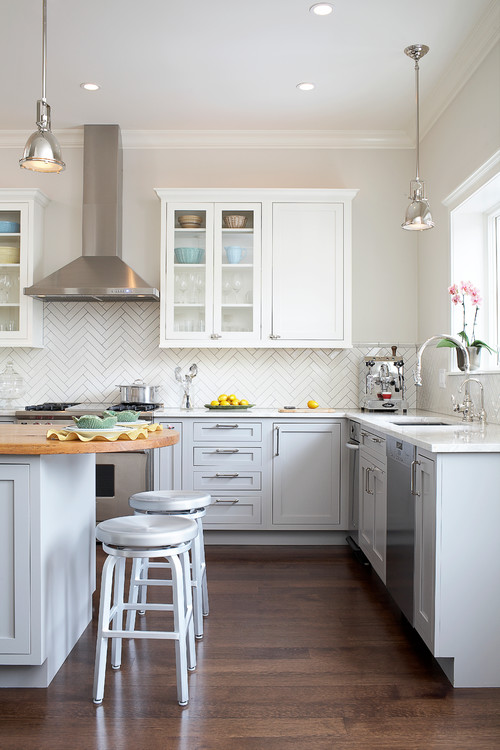 traditional kitchen with white chevron backsplashes and dark wood flooring
In this grey and white kitchen, grey shaker cabinets serve as the lower ones, and white shaker cabinets serve as the upper ones, providing a stark contrast. When paired with a simple, solid pull, they have a sleek look that complements the kitchen's color scheme. The quartz countertops transition beautifully with the grey kitchen cabinets, creating an eclectic look while blending with the other stainless steel appliances and pulling off a harmonious integrity within the space. The presence of dark wood flooring emphasizes the contrast in the kitchen and adds texture to the space.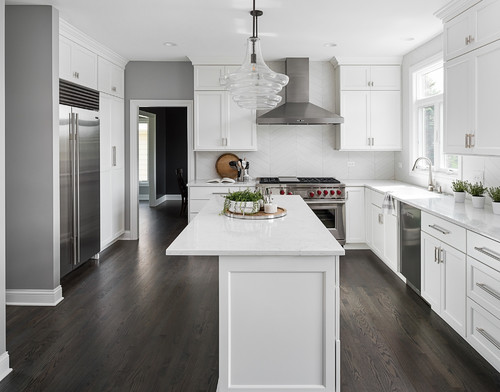 white kitchen with cutting board and white chevron tile backsplashes
Transitional kitchens combine modern and traditional design elements. They're great because they allow you to have a kitchen that fits into the architecture of an old house while still being functional for modern living. If you like to keep it clean and simple, then an all-white shaker kitchen cabinet is a great choice. Merging with stainless steel appliances for a modern touch. A white chevron tile backsplash perfectly accentuates its sharp character, creating a sophisticated look. The understated look of the cutting board brings warmth to the kitchen, while the dark wood floors complement it.
grey and white chevron kitchen backsplash
While grey is often used as an alternative to white, it is often paired with white to add subtle depth to the kitchen. For a modern kitchen backsplash, a grey-and-white chevron backsplash is stunning. It's a great example of how people love decorative tiles so much. It has the durability of porcelain with a modern and unique style that will suit any space.
Grey and white chevron backsplashes are widely used to create alternating colored stripes to give a unique and stylish look to a kitchen floor or backsplash. It's the one for you if you want an elegant kitchen that's both fresh and timeless.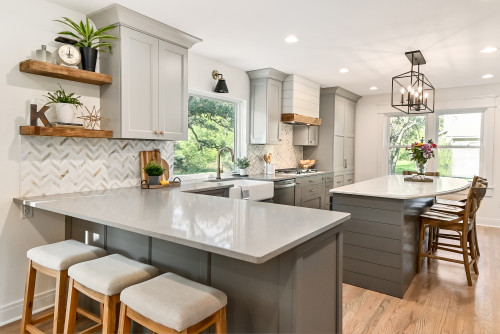 A new awning window kitchen with grey and white chevron backsplashes
The kitchen has a warm and bright feel to it as a whole. By opening the walls, a generous sense of space is created. New awning windows overlook the backyard and bring in natural light. The addition of an island and bar cabinets provides a refined dining environment as well as convenience. Different materials, patterns, colors, and textures define this space and add richness. Here, shades of gold and grey are used on the cabinets, backsplash, and hardware, and the presence of a grey-and-white chevron backsplash adds visual interest.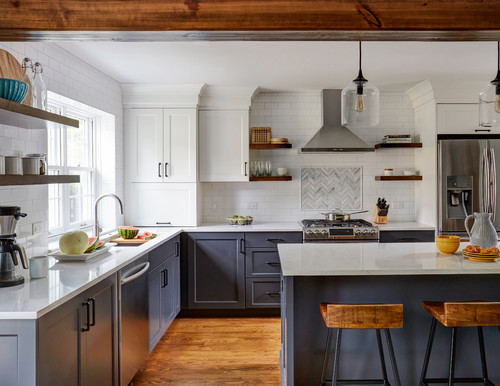 Rustic modern kitchen with grey-and-white chevron and subway tile backsplashes
Natural materials, neutral tones, and a weathered feel complete this modern kitchen. Open beams and wood floors keep the room truly rustic, while white shaker kitchen cabinets make the white subway tile backsplash stand out. It is worth noting that on the finish of the backsplash, a small area of grey-white chevron backsplash is additionally added to prevent oil stains. Wooden open shelves bring color contrast as well as convenience.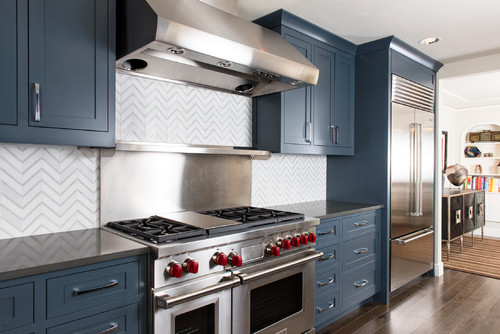 modern kitchen with blue shaker cabinets and range hood
Regardless of whether you have open shelving or simple shaker kitchen cabinets, it's important to have backsplashes and countertops that complement your stylish storage system. Here, a blue shaker kitchen cabinet shouts chic and comfort with its classic yet modern design. Its pairing with solid surface worktops results in an eclectic look that adds a modern touch to the kitchen. The grey and white chevron backsplash nicely emphasizes the contrast between the two, pulling off the harmonious integrity within the space. A stainless steel range hood and accents of red detailing enrich the kitchen's color scheme.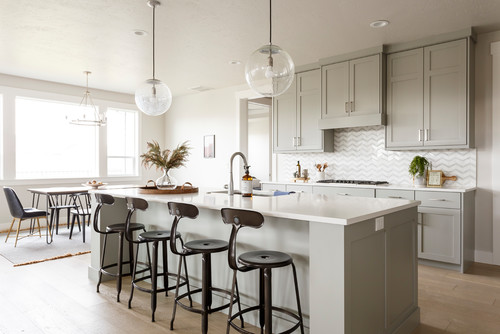 transitional kitchen with grey shaker cabinets and solid surface countertops
Regardless of whether your style is modern or ultra-modern, grey and white go together to complete any look. Their tone can cover walls, countertops, floors, and cabinets. Used alone, one can make a compelling statement or Blend the two together for an understated, sophisticated look. Grey kitchen cabinets with white countertops create a clean and earthy atmosphere, while black counter stools provide a strong contrast and a dining area. A grey-white chevron backsplash brings movement to the kitchen with its vivid finish pattern, evoking both visual and tactile interest.
glossy white tile chevron backsplash
Chevron backsplashes are similar to herringbone tile backsplashes in that they are frequently used for kitchen backsplashes, bathroom tile, and hardwood floors. It's different, though, because it has a "V" pattern where each tile is connected in a "V." For those who like a more conventional design but want an up-to-date aesthetic with the timeless quality of glossy white, chevron backsplashes are ideal.
Because glossy white tile is the brightest and most brilliant material there is, it can be shown in a range of contexts, from conventional to modern. Glossy tiles have a smooth, reflective surface that gives backsplashes a softer appearance by absorbing light.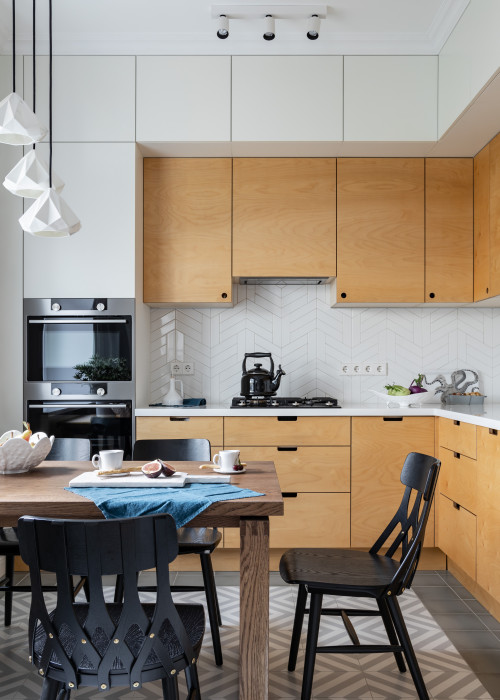 Scandinavian Kitchen with glossy white tile chevron backsplashes and dining table
Scandinavian-style kitchens are known for their practical layouts, neutral tones, less-is-more aesthetic, wood tones, and occasional quirky touches. This kitchen is a perfect example. The wood flat-panel cabinets command nearly all of the attention, and the clean look, combined with black knobs and pulls, creates a modern chic vibe. At the same time, white flat-panel kitchen cabinets in neutral colors are added to contrast with them, and built-in cabinets combined with stainless steel enrich the overall appearance. Glossy white chevron backsplashes play an important role in balancing their appearance and giving them a bright effect. The wooden dining table adds a natural vibe to the kitchen, bringing warmth.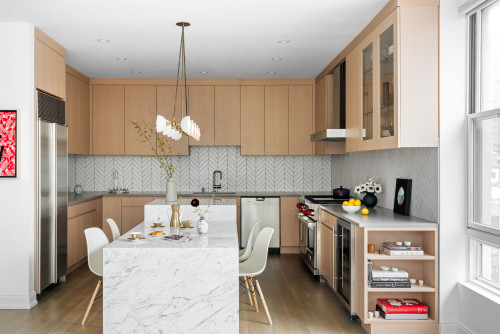 a unique design with marble island and white oak flat-panel cabinets
Modern kitchen designs often include open spaces, minimalist features, and simple color palettes. In this kitchen, the white oak flat-panel cabinets look fairly clean and have a cozy feel. Moreover, the storage space is opened under the base cabinet, which brings convenience. A marble island looks luxurious and stylish, providing an uncluttered space to relax and entertain. A white chevron backsplash complements it, creating a sophisticated look. It is worth noting that the side-by-side chandeliers suspended from the ceiling have a novel and stylish appearance and rise to prominence in the entire kitchen.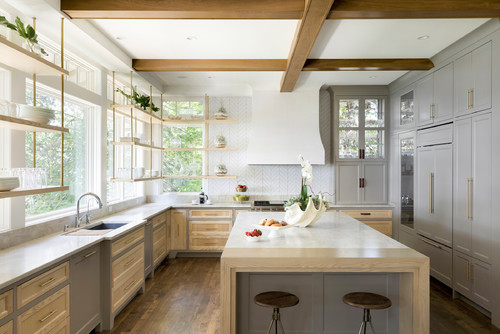 farmhouse kitchen with open wood shelves and chevron backsplashes
Classic farmhouse kitchens tend to focus on natural materials, unpretentious design, and cooking space that can accommodate large meals. Here, natural wood cabinets dominate the kitchen, and the earthy exterior combined with solid brass pulls add a touch of luxury. The open wooden shelves are particularly novel; they are suspended in the air with brass supports, adding a modern touch. The glossy white chevron backsplash becomes brighter and cleaner in the light from outside. The wooden flooring and the whole kitchen complement each other, creating a full country atmosphere.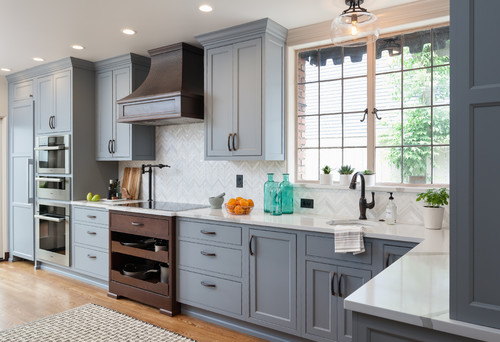 glossy white tile chevron kitchen backsplashes and grey cabinets a trendy look
The natural floor is very fresh and natural. Because the natural color belongs to the warm color system, it creates a very warm feeling and makes the kitchen with grey as the main color less gloomy. The best traditional kitchens rely on classic elements while still leaving room for family entertainment or entertaining guests. Grey kitchens with white solid-surface countertops form a classic combination, expressing ease. A glossy white chevron backsplash also brightens up the overall color palette. Placing potted flowers by the windows also adds a biophilic touch to the kitchen.
What is a chevron tile pattern?
The chevron tile pattern features rectangular pieces arranged in continuous Vs. Each V is identical to the one before, so when multiple rows are put together, the Vs form a mesmerizing zigzag pattern.
Sharp angles and straight lines give Chevron a clean appearance, and the pattern may also provide the illusion that a place is larger, which is beneficial for tiny rooms or individuals who want an open, breezy environment.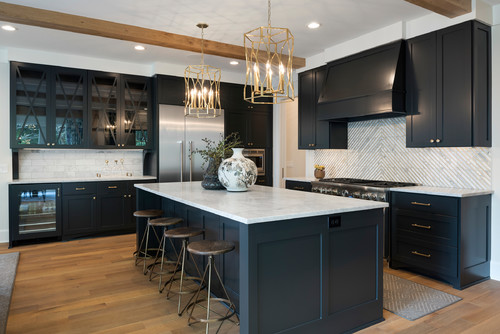 transitional kitchen with chevron backsplashes and marble countertops
Open beams and wooden floors give the interior a more rustic look, adding a warm sense of nature to the kitchen. Dark blue kitchen cabinets play an important role in eliminating tension due to the stress of life and promoting calm and organized thinking. When combined with solid silver pulls and knobs, it balances out the monotonous color and gives a stylish appearance. The marble countertop also contrasts with it, creating an eclectic look. The presence of a chevron backsplash adds freshness to the kitchen while outlining the overall design.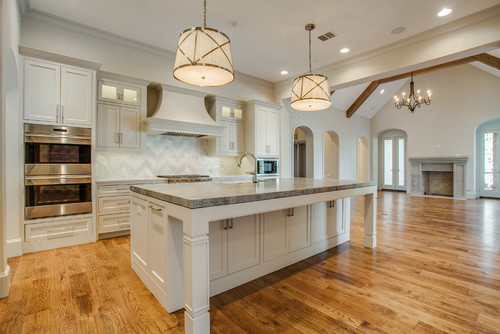 luxury atmosphere with marble countertops and white shaker kitchen cabinets
The open kitchen has a large space, allowing many people to prepare meals together, making life more fun. The bright colors of the wood floors make the whole kitchen stand out, and the pendant lights hanging from the ceiling create a sense of luxury. The combination of marble countertops and white base cabinets is the cherry on top of an otherwise luxurious cake. Its noble posture creates a sense of modern fashion. The white chevron backsplash design breaks up the monotonous appearance with its unique posture, showing a sense of dynamism.