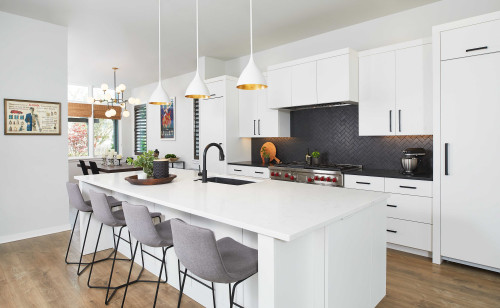 White Kitchen with Black Herringbone Backsplashes and Cabinet Pulls
In the kitchen, black and white has always been a classic combination. The clean and simple look of white lends a comfortable feel, paired with black cabinet pulls for a stylish look. Meanwhile, the black herringbone backsplash also complements it, forming a strong contrast. In order to break up its monotonous appearance, a black quartz countertop is added to achieve a perfect monochrome transition. White kitchen cabinets can be matched with countertops of any material or color to maintain a pure and vibrant character. Four grey counter stools accentuate the contrast and enrich the color throughout the kitchen.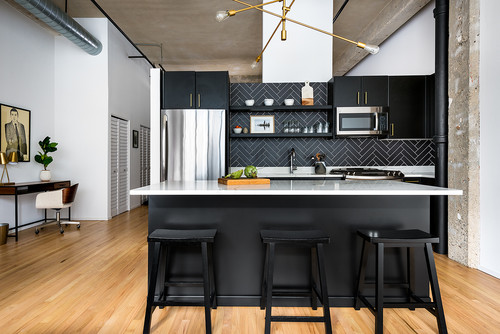 Industrial Kitchen with Black Island and Herringbone Backsplashes
Black is low and steady, which plays an important role in this industrial kitchen's design. The ceiling, in particular, is immediately reminiscent of the style. The design of the pendant light is even more novel, which not only adds color to the kitchen but also arouses people's visual interest. Pair a white countertop with a large black island for a powerful balance that doesn't take away from the overall decor. It can be said that the black and white combination couldn't have looked more refined and subtle! The black herringbone backsplash provides a stark contrast as its finish is patterned in white. And the addition of light wood flooring creates a sense of spaciousness in the kitchen.
about black herringbone kitchen backsplash
These days, there is a vast market for kitchen backsplashes, and styles are continuously evolving. Tiles with bolder patterns, brilliant colors, and distinctive forms will top the trend list in addition to traditional tile selections like subway tile or white backsplashes. Consider the herringbone backsplash as an illustration. Rectangular subway tiles made of ceramic, glass, porcelain, metal, and natural stone are arranged in a herringbone pattern that resembles a fishbone. A small change to the traditional rectangular tile may go a long way toward giving the kitchen a distinctive focal point.

The traditional choice for a kitchen backsplash is black herringbone tile. Yes, they are beautiful and classic. Black is the most common color for herringbone backsplashes, just like it is for other tiles. It will add a lot of visual interest to flat shades, paired with a herringbone pattern for a stately, steady color. Depending on the material, herringbone backsplashes are suitable for different design aesthetics, from modern to traditional.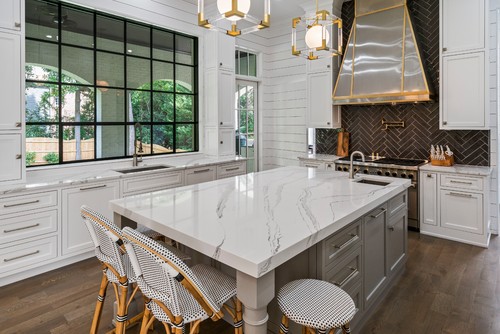 A Clean Atmosphere with Marble Countertops and Brass Range Hood
In this bright and airy kitchen, there is a sense of cleanliness and comfort. An island with marble countertops combined with grey kitchen cabinets takes center stage in the kitchen, contributing a characteristic gesture. Its windows are innovatively designed with black trim that evokes visual interest, while unobstructed views create a sense of spaciousness. The black herringbone backsplash complements the range hood and creates a strong contrast. Moreover, a stylish appearance appeared in the brass trim of the range hood, echoing the front and back of the chandelier.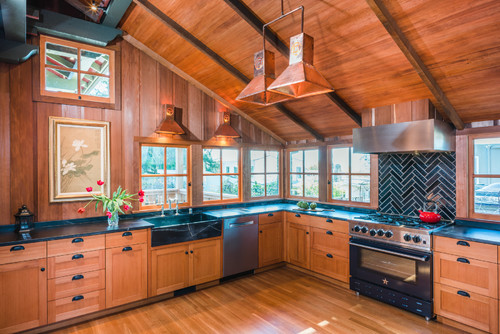 A Chic Look with Black Backsplashes and Brown Floorboard In Rustic Kitchen
This kitchen is so beautiful! And the bright vision gives people a very comfortable and warm feeling. The entire kitchen is dominated by dark wood to create a rustic visual sense. It is commendable that the design of the ceiling adds a sense of space to this seemingly small kitchen, and the murals on the wall add to the artistic atmosphere of the kitchen. The presence of the black herringbone backsplash lends a modern and stylish look to the kitchen. More importantly, the quartz countertop achieves perfect harmony with it.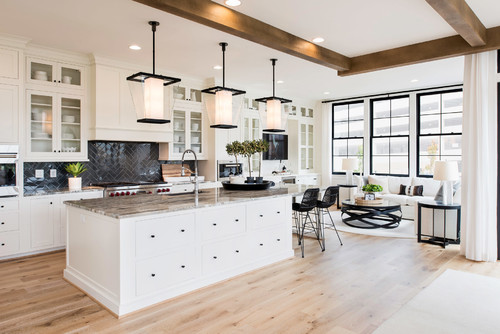 Transitional Kitchen with Glass-Front Cabinets and Black Herringbone Backsplashes
Thanks to the high ceiling, this kitchen creates a sense of spaciousness. And the addition of sorghum planks adds color to the kitchen. In this kitchen, the white color scheme dominates, and simple accents of black knobs contrast the cabinet finishes. Meanwhile, a black herringbone backsplash adds a much-welcomed chic touch to this kitchen. The white glass-front cabinet is integrated with it, giving it a more simple and beautiful appearance. Light wood floors bring a bright effect to the kitchen with their clean look.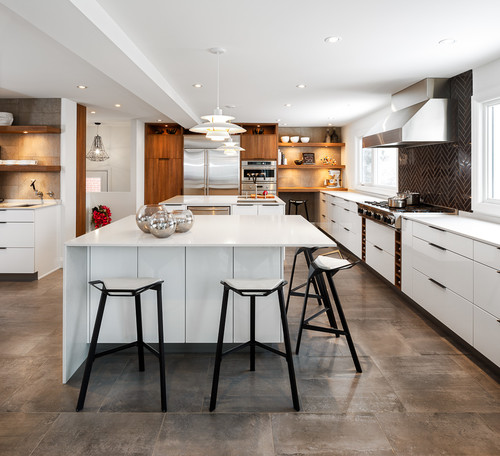 Drawer Lateral File Kitchen with Black Herringbone Backsplashes and Stainless Steel Appliances
Flat-panel cabinets are the most flexible collocation space, which is a test of the designer's understanding and combination of colors, materials, and functions. In this kitchen, the white drawer lateral file is a good display of the natural, tranquil, and modern living concept. Adding two white kitchen islands creates a clean feel. The fusion of wall wood cabinets and stainless steel furniture not only brings a feeling of nature but also a stylish appearance.
white herringbone kitchen backsplash with black grout
The grout color, which may significantly alter the appearance of your backsplash, is equally essential to consider when picking a backsplash as the backsplash itself. In your kitchen, a classic tile and grout combination that contrasts and makes a statement is a white herringbone backsplash with black grout. Additionally, they give your kitchen a traditional and contemporary appearance. Of course, how you frame it also affects a lot of this. The best way to highlight the distinctive appearance of a herringbone pattern is to use black grout, especially when the herringbone tile is bright white. Black grout has a classic appearance, whether it is paired with white or another color.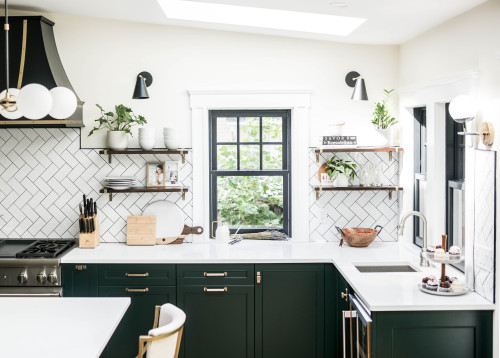 Transitional Kitchen with Green Cabinets and White Herringbone Backsplashes
The white herringbone backsplash acts as a neutral backdrop, emphasizing the vividness of the green cabinets and making them stand out. Adding silver finger pulls to the cabinet finish not only brings convenience but also balances the look. Moreover, connecting the windows to the backyard presents a bright and airy effect and a sense of earthy ambience. Open shelves with brass detailing maximize storage and performance in a room.
Black and White Kitchen with White Beveled Herringbone Tile Backsplash and Polished Brass Hardware
Generally speaking, for a small kitchen like this, the simpler the design, the more crisp and clean it will be. And here, different colors, textures, and patterns give the kitchen a hip look. Multiple small glass-front cabinets bring storage space and convenience to the kitchen. A white beveled herringbone tile backsplash emphasizes the position of the glass-fronted cabinet due to the thickness of the finish, creating a layered look. Black flat-panel kitchen cabinets with brass pulls lend a luxurious atmosphere to the kitchen.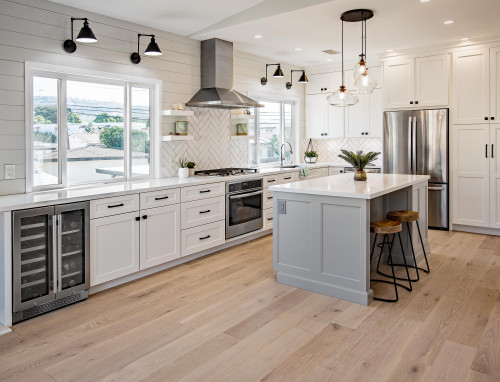 White Herringbone Backsplash with Black Grout and Grey Island in Farmhouse Kitchen
In this kitchen, black and white are paired for a stark contrast. There is no doubt that this is also the classic combination choice for most homeowners. The open and bright windows bring fresh air to the whole kitchen, and the four pendant lights above the windows enrich the whole design of the kitchen. A white herringbone backsplash with black grout accentuates the white shaker kitchen cabinets as a specific area of attention. Meanwhile, the grey island colors the kitchen's scheme.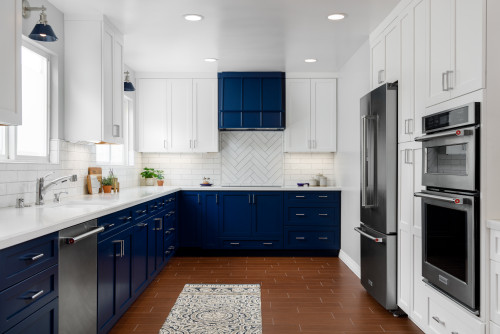 Dark Blue Kitchen Cabinets with Glazed Porcelain Tile Flooring and White Herringbone Backsplashes
This is a bold statement! Dark blue kitchen cabinets and white upper cabinets with an undermount sink create a brighter transitional space. Subway tile backsplashes and quartz countertops achieve a perfectly harmonious look. On this basis, adding a small area of white herringbone backsplash enriches the color of the kitchen and evokes visual interest. The installation of a glazed tile floor complements the entire kitchen, enriching the color scheme of the kitchen. And the addition of the rug brings warmth.
Is black grout a good idea?
Yes. A darker color is better for hiding dirt and is more difficult to change color than lighter-colored grout. It can also improve the look of your bathroom by making light-colored tiles appear brighter. Black grout over light-colored tiles can help keep the look from getting too washed out, anchor the whites, and give the look some substance.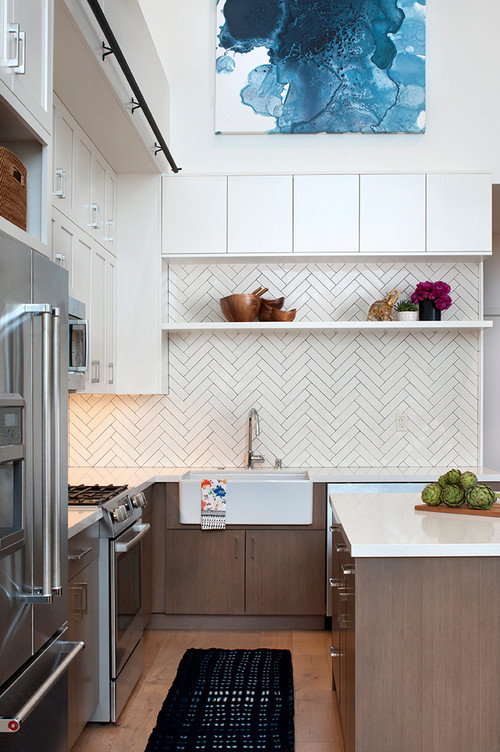 Scandinavian Kitchen with Splash-Ink Painting and Black Doormat
Although the kitchen area is small, it has a strong sense of warmth and an artistic atmosphere. The splash-ink painting on the wall, in particular, captures everyone's attention and colors the entire kitchen. The white herringbone tile backsplash complements the dark wood kitchen cabinets, creating a warm and unique space. And it integrates with the farm sink, reflecting a more simple charm. Likewise, the placement of the black doormat warms the interior space.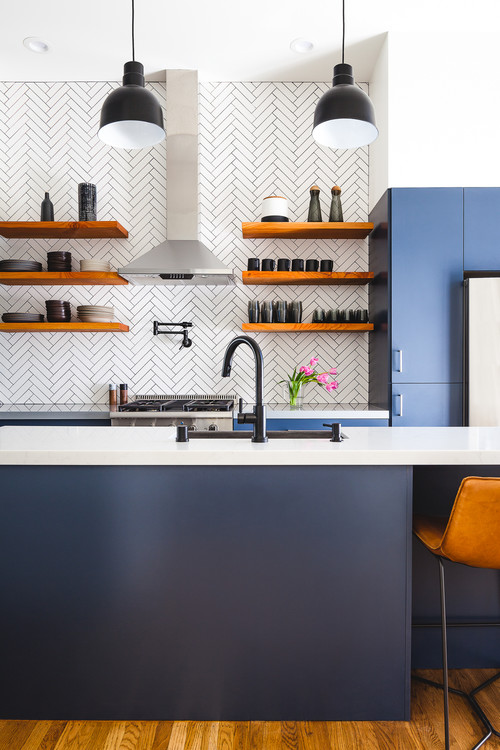 Blue Flat-Panel Kitchen Cabinets with Wood Wall Shelves and White Herringbone Backsplashes
The first thing that catches the eye is the wood shelves on the white herringbone backsplash in bright colors that not only attract attention but also provide storage space, killing two birds with one stone. Of course, the stylish appearance of the backsplash can be said to be versatile, and it forms a sleek look with the range hood, showing individuality. The clean appearance of blue flat-panel kitchen cabinets not only makes the space hip and clean but also visually clean and refreshing. Pairing an undermount sink with a solid countertop adds a touch of glamor to the kitchen.
matte black herringbone kitchen backsplash
Kitchen backsplashes are often among the materials with the highest level of durability. Homeowners frequently wrestle with the question of whether to install a matte kitchen backsplash. Even though all of the products are identical, they all have a distinct shine and smoothness, and depending on which one you pick, your kitchen area may wind up looking extremely different.
Black is a traditional color that never goes out of style. It also improves the space's appearance and adds to the contrast or no-nonsense atmosphere. A neutral or pastel-colored room might benefit from a matte black herringbone kitchen backsplash or get a beautiful blast of color. These features will allow you to design the ideal matte black kitchen backsplash that is stunning.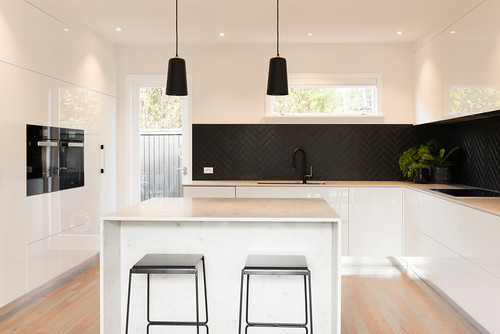 Modern U-Shaped Kitchen with Double-Bowl Sink and Matte Black Herringbone Backsplashes
Thanks to the reflective effect of the white flat-panel kitchen cabinets, the whole kitchen creates a clean and bright atmosphere. And the addition of built-in cabinetry lends a stylish look to its smooth and calm surface. This is complemented by a matte black herringbone backsplash, which plays an important role in protecting the countertop and wall space. The design of the double-bowl sink provides convenience and creates a modern vibe. Light wood-colored floors give a cozy feel and bring warmth.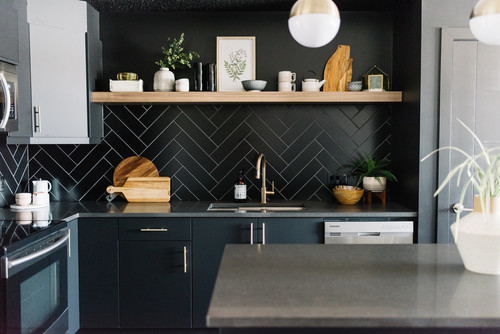 Matte Black Herringbone Backsplashes and Wood Wall Shelf in Scandinavian Kitchen
Choosing black for a kitchen is an expressive solution for interior design. A matte black herringbone backsplash may seem bland, but it brightens up any vibrant color and provides a sense of space. A wood wall shelf on the backsplash, for example, not only brings convenience to the kitchen but also creates a plain look. In addition to this, potted flowers placed on the countertops create a biophilic vibe to the kitchen and a sense of natural ambience.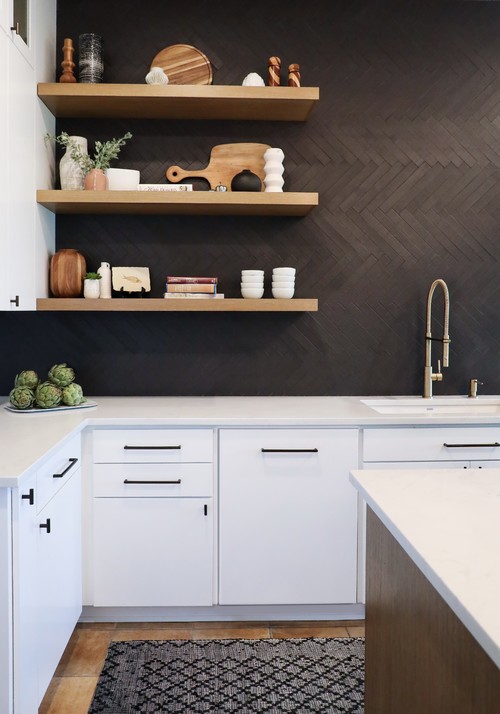 Modern Kitchen with Quartz Countertops and White Flat-Panel Cabinets
The classic black and white combination can be found in many modern kitchens. This is no exception. The rich color of the matte herringbone backsplash has a modern feel, and unlike usual, the pattern is not quite obvious, creating a hazy illusion. The white flat-panel kitchen cabinet also forms a sharp contrast with it, creating a clean and simple feeling. Solid black pulls add color to the cabinet finish.
black chevron herringbone kitchen backsplash
Kitchens designed in a range of styles, including classic, transitional, modern, and contemporary, often have chevron backsplashes. You may discover the ideal herringbone pattern based on your choices, including the type of doors, tiles for appliances, backsplashes, and floors, as well as the accents and accessories you want to see in your kitchen. In the chevron, the wood blocks run point to point and the ends are cut at an angle to create a continuous zigzag design, and it can be compared to a herringbone tile pattern as it is often used for kitchen backsplashes, bathroom tiles, and hardwood floors.
Any kitchen may be accented with black. With light colored cabinetry, this hue will look fantastic. The black chevron kitchen backsplash design, which is high-end, sleek, serious, and staid, is a color full of texture. The herringbone design is perfect for individuals who prefer a more traditional pattern but want an up-to-date aesthetic that complements the staid black.
Classic & Clean Kitchen with Matte Black Herringbone Backsplashes and Range Hood
Looking ahead, my first impression is that this is a classic and clean kitchen. The focal point of this kitchen is the stunning bar countertop, made from reclaimed zebrawood and showcasing a beautifully symmetrical waterfall end, contributing a characteristic gesture and look. A range hood surround and a mix of polished and matte black herringbone tiles add texture to the backsplash. Refined brushed gold finishes adorn faucets, drawer hardware, and lighting fixtures, creating a unique aesthetic and a timeless design.
White Shaker Kitchen Cabinets with Green Island and Drop-In Sink
The kitchen is dominated by white shaker cabinets. In addition to giving people a beautiful visual sense, the white finish also makes the interior space spacious, bright, clean, and orderly. It is contrasted with solid black pull handles for a sleek look. The black matte herringbone backsplash appears to be new and stylish, making the white shaker kitchen cabinets stand out. The green island is matched with the white quartz countertop, which breaks the traditional concept and brings a sense of freshness. Drop-in sinks complement the countertop for a clean, simple look.
Which is better, a chevron or a herringbone backsplash?
Although chevron and herringbone tile designs are sometimes used interchangeably, they each have subtle differences. Herringbone staggers its diagonal elements to give an offset or interlocking appearance, whereas chevron presents a seamless row of Vs. The decision between the two ultimately boils down to personal preference because both patterns can elevate spaces.