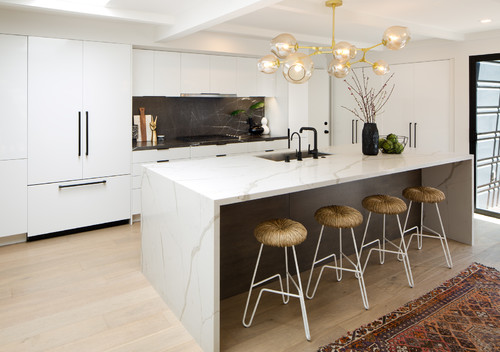 Midcentury Kitchen with Luxury Chandeliers and Black Marble Backsplash
The white flat-panel kitchen cabinets give people a pleasing and detailed style, and their appearance presents a clean and simple atmosphere, which makes people look quite comfortable. The contrast between the black marble kitchen backsplash and countertop in the middle is eye-opening. Interestingly, the golden gesture on the countertop seems to be signaling to me, which not only reflects the layering of the kitchen but also adds a humorous element. The new look of the chandelier brings a sense of luxury to the kitchen, while at the same time complementing the white marble island and highlighting the noble atmosphere of the kitchen. Light wood floors and a vibrant rug also bring a warm feeling to the kitchen.
Fresh Atmosphere with Flat-Panel Kitchen Cabinets and Marble Backsplash
The dark grey flat-panel kitchen cabinets have a calm and atmospheric appearance, which establishes a solemn and serious atmosphere for the kitchen. It combines perfectly with the black insert cabinets for a stylish look. Exuding luxury and elegance, black marble is a great material for a backsplash. It is both stylish and traditional and works well in many different kitchen styles. The wall shelf is perfectly combined with it, providing a wide storage space and bringing convenience. The light from the outside makes the entire interior space brighter and more noticeable.
about Black Marble Kitchen Backsplash
A gorgeous kitchen renovation is all about the details. The nicest kitchens are those with the highest attention to detail, from exquisite tile floors to breathtaking backsplashes. In addition to being practical, your kitchen backsplash has a significant impact on the space. Even though updating your backsplash is less expensive than replacing your entire countertop, it may still significantly improve the look of your kitchen.
Black marble, which exudes luxury and elegance, is a great material for backsplashes. It fits in well with a variety of kitchen designs and is both fashionable and conventional. Check out these wonderful ideas if you're thinking about using marble for your backsplash. There is a marble backsplash for every kitchen design, from contemporary to traditional.
Modern Kitchen with Blonde Wood Cabinets and Black Marble Countertops
Breaking from the standard mold of modern kitchens, this kitchen features blonde wood kitchen cabinets and black marble countertops. The two complement each other for an eclectic look. This fresh design colors the kitchen and pulls off the harmonious integrity of the interior space. Kitchen seating also brings a unique twist to standard bar stools, providing an exquisite cooking and dining environment.
Small Kitchen with Dark Wood Countertop and Black Marble Backsplash
We often think of marble as pristine white, but this bold kitchen proves that black marble can be just as sophisticated and elegant. The contrasting white textures are striking, while the black kitchen cabinets create a moody vibe. Dark wood countertops are clearly grained and refined, making a bold statement and bringing a sense of warmth. The addition of other flowers also adds color to the kitchen and lends an earthy feel.
breakfast nook kitchen with black marble backsplash and countertop
This is a fairly new kitchen with a breakfast nook. Here, the island is an independent entity, and it is also a part of the cabinet as an extension of the dining table. It not only considers the beauty of the design but also achieves coordination with other furniture spaces. And what could be more luxurious than marble alone? A beautiful golden faucet elevates the black marble backsplash idea and pairs perfectly with it, adding rich warmth to the space. Black kitchen cabinets are seamlessly combined with a marble backsplash for a modern and sleek look.
Porcelain Tile Flooring Kitchen with Black Marble Backsplash
A subtle marble backsplash works well with the bold hue. For example, the flat-panel kitchen cabinets here have bright colors, a fashionable and novel appearance, and are quite distinctive. Black marble pairs perfectly with the rich-toned cabinets, allowing the backsplash to make a statement. The presence of light wood floorboards balances the look of both and instills warmth. The dark wood countertop is integrated with the cabinet, and the placement of two high counter stools adds a different color and a sense of fashion.
white kitchen Black Marble Kitchen Backsplash
If you want to create a flat, neutral space, selecting the ideal white kitchen backsplash is essential. For a dark or small kitchen, you may also want a white backsplash that enhances the light. On the contrary, white kitchen ideas don't necessarily need to match a white backsplash. Black marble can also be used to create a striking focal point in an otherwise neutral white kitchen scheme.

Black marble has a beautiful natural luster and character that can provide a subtle feeling of grandeur, and its inherent diversity may prevent a kitchen from being overly similar. If you're concerned that your white kitchen will seem too primitive, combine it with a marble backsplash for a classic yet striking contrast.
White Flat-Panel Cabinet Kitchen with Black Marble Backsplash
Consider pairing a marble backsplash with crisp white flat-panel kitchen cabinets for a layered look that's unique without being overpowering. Here, black marble frames the stove and integrates perfectly with the cabinets. Five bar stools with wood details add warmth to the kitchen and create a sense of spaciousness. Likewise, five simple pendant lights complete the look in perfect harmony with the white flat-panel kitchen cabinets.
classic traditional kitchen with white shaker cabinets and black marble backsplash
If you decide to opt for high-end materials like marble in your kitchen, consider buying some luxury appliances as well. Not only is the six-burner cooktop a great showpiece for your kitchen, but it's also extremely convenient for any home chef. Clearly, white shaker kitchen cabinets with a black marble backsplash are a great combination idea. While the appearance is novel, it also brings fashion. The long rug gives the "lonely" marble island a warm feeling and balances the strong color.
a fresh and stylish kitchen with white flat-panel kitchen and marble backsplash
What a neat and organized white flat-panel kitchen cabinet! It makes people look quite comfortable, and the black embellishment is added in the middle to add different colors and form a sharp contrast. Marble is a great material to accentuate shapes more effectively, and its bright look brings a bright effect to the kitchen, adding a touch of glamour. The free-standing marble island also plays a full role in the design, creating a noble atmosphere in an austere environment.
family vibe with white kitchen cabinets and small island
Marble tiles with white accents add visual interest. The subtle contrast of marble in a white kitchen creates a striking, layered look that adds plenty of texture and visual appeal. The dim lighting effect gives people a warm feeling. The space is small but complete, especially the island platform in the center, with four grey high counter stools to create a sense of family atmosphere.
black honed marble kitchen backsplash
Is marble a component of your upcoming home project? A gorgeous natural stone with timeless beauty, marble may be used in the home for anything from worktops to kitchen cabinets. You may realize that there are more decisions to make than just picking a color once you've selected your favorite marble types for the project at hand. Additionally, certain types of marble also come in different finishes, such as honed.
Honed marble is a relatively new finish that is gaining popularity due to its more natural, raw appearance. The hue of honed marble may also seem lighter, but it is a popular choice among homeowners because it gives a more natural, rustic feel that matches their home's design.
modern kitchen with stainless steel range hood and honed marble backsplash
Interestingly, the finish of this kitchen backsplash looks like a spider web at first glance, and it is particularly vivid, adding color to the kitchen. It is also matched with a stainless steel range hood and flat-panel kitchen cabinets. This combination brings a sense of dynamics and breaks the concept of the combination of monochrome cabinets. The independent central island also adds a high-end atmosphere to the entire kitchen, providing an exquisite dining environment. The details of flowers and birds also give off a biophilic vibe.
a spacious kitchen with dark wood cabinet and black honed marble backsplash
The broad kitchen space exudes an aristocratic temperament. Here, a black polished marble worktop combines with dark wood kitchen cabinets for a dignified and natural look, and black finger pulls add a touch of style. From a distance, there appears to be a floral pattern on the finish of the black marble backsplash, which has come to life, bringing visual interest and color to the kitchen. What's more, the other side of the kitchen also has a large space, where two large stainless steel pieces of furniture are placed to provide storage space.
Vogue modern kitchen with dark marble backsplash and marble flooring
For a streamlined look, you can choose to reuse materials on countertops and backsplashes. In this modern and sleek kitchen, a black honed marble countertop with a dramatic texture continues on the backsplash, countertops, and even the center island. Oak kitchen cabinets and stainless steel-look cabinets create an eclectic visual effect, with brass trim adding a touch of luster and glamour. The matte black faucet also highlights the noble and luxurious atmosphere.
farmhouse kitchen with black marble subway tile backsplash
Marble is a timeless and elegant choice for kitchen countertops. To make this luxurious material stand out as a key feature, you can opt for a backsplash in the same material as it. Here, black marble subway tiles outlined with white grout create a subtly textured backsplash for a new, sleek look. And as a fresh idea, incorporate white shaker kitchen cabinets for a sharp contrast. This contrast creates beautiful movement and is a bold statement in the kitchen.
Is marble backsplash a bad idea?
I don't think so. The rich appearance and feel of marble is by far the main factor in people's desire for it as a backsplash. The stone known for refinement, style, and timelessness is marble. With a distinctive appearance that no other natural stone can match, it gives any space a light and airy feel. It can be used to add light to a modern all-white kitchen or to contrast dark cabinets. Marble complements the contemporary grey finishes that are currently popular, so it may be used in designs ranging from the classic to the cutting-edge.
an appealing appearance with polished marble backsplash and flush-mount ceiling lighting
White shaker kitchen cabinets have a very charming and inviting feel to them, and polished marble is a great material to use if you want to create a neutral, bright kitchen. Marble offers wonderful textures that provide endless depth and visual interest to your kitchen. Because it's so striking, you can keep the emphasis on marble by opting for cleaner lines in the rest of your kitchen. Here, oak upholstery and countertops are paired for a modern and clean look. Flut-mount ceiling lights also add a touch of luxury to the kitchen.
marble backsplash kitchen with oak and black flat-panel cabinets
Marble has a low contrast in stone materials and works well with bold cabinets. Here, stunning oak and black flat-panel kitchen cabinets are paired perfectly with the subtle texture of the black marble backsplash. It has to be said that the lines on the marble finishes are like lightning, and the colors are distinct, creating a unique look. What's more, oak pillars act as a transition, combined with glass wine cabinets, creating a luxurious atmosphere.
Black Marble Kitchen Backsplash and black countertop
Black countertops are a clean, stylish choice that can modernize any style of kitchen. While a black countertop creates a great base, it also needs finishing details. Namely, the backsplash. A black marble backsplash can be used if you want a backsplash in a similar black tone but with a more unique appeal.

A black marble kitchen backsplash with a black countertop is the epitome of cool, sleek, and modern. The tonal look exudes sophistication and a high-end vibe. Black splashbacks are best for minimalist kitchens with flat-panel front doors and can be used with honed or polished stone. The kitchen is where we spend the most time, so let's dive into black countertop backsplash ideas for kitchen inspiration!
luxury kitchen with black marble island and backsplash
Marble is a material that works well with a variety of textures and styles. That said, if your budget allows, choosing a marble countertop that matches your backsplash is a great way to make your kitchen shine. To balance the drab look of black, add oak kitchen cabinets for perfect harmony and contrast. At the same time, the built-in cabinets also add color and bring fashion. The incorporation of a black refrigerator adds a touch of luxury to the kitchen.
Contemporary Kitchen with porcelain tile flooring and black marble backsplash
The large space brings many possibilities to the kitchen. In addition to the upper and lower cabinets, many glass-fronted cabinets as well as wood-walled ones have been added. In this way, it not only provides a large amount of storage space but also provides convenience. The placement of books also adds warmth to the original luxurious environment. The central island sits on porcelain tile flooring with a black square pattern, creating a dynamic aesthetic. Notably, the black marble backsplash complements the countertop, adding a connection to the floor in addition to matching and creating a unique presence.
all-black kitchen with black marble backsplash and countertop
The color scheme used in this kitchen is understated but functional. The dining area and kitchen are combined into a single space and style, and the use of marble for the backsplash and countertops balances the overall look, adding a touch of luxury. The mini-bar area built into the window sill provides convenience. It can be used as both an additional worktop in the kitchen and a regular work area, effectively killing two birds with one stone. The addition of the carpet also enriches the color of the kitchen and breaks the monotonous atmosphere.
modern kitchen with l-shaped island and black marble countertop
It is worth mentioning that this is an L-shaped kitchen with an L-shaped island. It has a lot of space and an even bigger view. A glance at the high-rise buildings and beautiful scenery outside the window creates a magnificent indoor atmosphere. And that's not all! The luxurious look of the gold range hood is paired with an intricate black marble backsplash for visual interest. And with the addition of lighting effects, the busy pattern on the backsplash's finish is quite vivid and lifelike. The chandelier design on the ceiling is even more novel and unique, adding color to the kitchen while also creating a bright effect.
white island and Black Marble Kitchen Backsplash
The kitchen's island has no specific definition and no fixed size. It is a countertop operating space in the kitchen, which is very common in open kitchens. The island can be part of the cabinet, it can also be a separate entity, and it can even be an extension of the dining table. Here, I would like to mention the unique aesthetics that the white island and black marble backsplash generated. Black and white is a philosophy that represents a straightforward and confident texture, and now, this texture has been regarded as eternally popular.
Black marble is a fashionable high-end color with a serene atmosphere. What's more important is the storage function of the white island. An island table with a reasonable design and easy operation must not only consider the aesthetics of the design and the coordination with other home spaces but also take care of kitchen appliances, sundries, and tableware. and storage tasks for food and other items.
high gloss kitchen with white island and black marble backsplash
Black and white kitchens are one of the more classic combinations because the two can produce a more obvious contrast, giving people a comfortable feeling. Meanwhile, it can arouse people's visual and tactile interests. If you want to beautify this combination, working on the backsplash or flooring would be a good choice. Here, a black marble backsplash mirrors the black floorboards front and back for a chic modern style. If you're worried about being too dark, go with high-gloss white panel kitchen cabinets, which have a glossy finish that can make a kitchen look bigger and brighter.
modern farmhouse kitchen with black marble countertop and dark wood flooring
This kitchen combines rusticity with chic modern elegance for an eclectic vibe. The combination of dark wood floorboards and various stainless steel fittings exemplifies classic farmhouse charm. The kitchen is bigger and brighter thanks to the high ceilings and windows that let in plenty of natural light. A black marble backsplash makes a statement due to its sleek finish, which complements the white center island and adds to the dynamics of the kitchen.
innovative design kitchen with marble countertop and white island

Black marble kitchen backsplashes are arguably a kitchen trend. It brings instant drama to a kitchen design. In this kitchen, the flowing pattern of the marble finish feels like a work of art and evokes visual interest. There is also a particularly creative design on this central island. The white island platform is mixed with marble countertops to create a dynamic feeling that violates harmony. It not only provides a space for cooking but also a space for dining. The appearance of four counter stools is also unexpectedly good.
open & airy kitchen with white island and black marble backsplash
A kitchen backsplash provides a creative canvas on which to inject unique personality and style into your kitchen. They can also be beautiful wall accents that can be personalized to your liking. If you are looking for a backsplash to go with a white island, then a black marble backsplash is a great option. Not only does it bring a unique aesthetic to your kitchen, but it also creates a striking contrast that adds visual interest. The presence of plants and flowers also brings a biophilic atmosphere to the kitchen, creating a natural atmosphere.