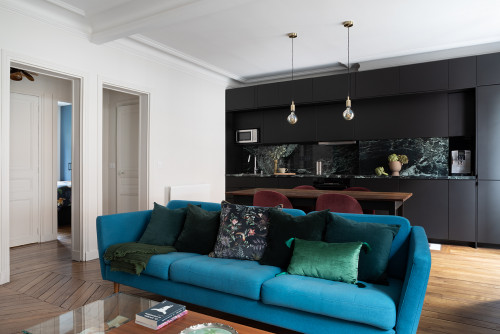 eclectic kitchen with black flat-panel cabinets and green marble backsplash
Black flat-panel kitchen cabinets create a chic vibe and instantly become the focal point of the kitchen. The addition of the green sofa creates movement throughout the space, and you can't help but draw your eyes around the room, enjoying each element. The green marble backsplash has a clear and natural finish, giving it a high-end and luxurious atmosphere. The presence of wood flooring adds an earthy design element to the kitchen and brings warmth. The same goes for dining table tops. Red-detailed dining chairs enrich the kitchen's color scheme.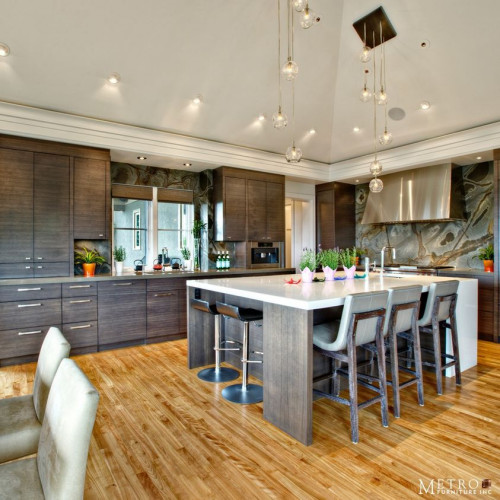 contemporary kitchen with wood flooring and indoor pub
Warm wood, with an inviting air and natural richness, feels more homely with crisp wood-toned cabinets, while white solid-surface countertops add austerity. It offers a popular choice for contemporary kitchens, balancing traditional and modern elements. The marble backsplash presents a high-end look with a visually cluttered finish pattern that is complemented by the stainless steel range hood for an eclectic look. The wood floor plays the role of stabilizing the space here, bringing a sense of warmth.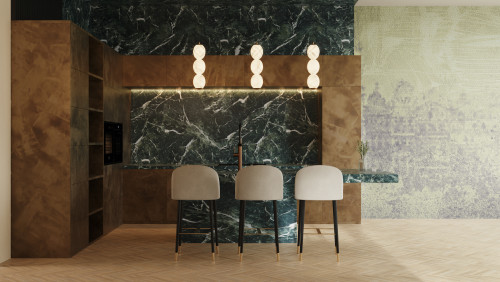 sober and impersonal appearance with green marble backsplash and beige bar stools
This kitchen is filled with a sense of warmth thanks to the wood-toned kitchen cabinets. The entire kitchen looks more sober and objective. It is obvious that the whole decoration uses natural materials such as stone and wood and neutral colors such as beige and green, which adds a certain sense of layering to the kitchen. A green marble backsplash acts as a design backdrop, creating a high-end, stylish look that is balanced by beige counter stools that bring warmth.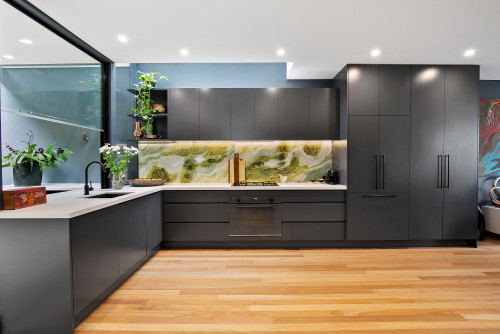 black kitchen with marble backsplash and solid-surface countertop
Black cabinets are rare. If you choose this heavy color, it is best to make the kitchen open; otherwise, it will be very depressing. The countertop can be wood or white, which can neutralize or form a sense of contrast to a certain extent. The marble backsplash is like a mural; the painting is choppy and majestic, bringing a sense of luxury to the kitchen. The arrangement of plants and flowers adds a biophilic atmosphere to the interior and creates a sense of natural warmth.
How to Remove Grease From Marble Backsplash
1. Spray the surface with a grease-removing all-purpose cleaner. Let it sit for 20 to 30 minutes.
2. Using a soft rag or paper towel, wipe off the backsplash. If necessary, repeat.
3. If the grease is stubborn, use a heavy-duty degreasing cleanser like Grease Grizzly or Goo Gone.
4. When completed, rinse with a clean, wet towel to eliminate any cleaning residue.
about green marble kitchen backsplash
All types of marble are stunning. Green marble, however, complements the gorgeous quality of the stone with a vibrant green color. By using green marble, you can create a look of timeless elegance in any area while remaining original and on-trend. This stone will complement numerous color schemes because it is available in a number of different shades of green marble.
Consider a green marble tile backsplash if you're weary of an all-white kitchen. This choice will not only make your kitchen more bright, but it will also offer you a distinctive and exciting style.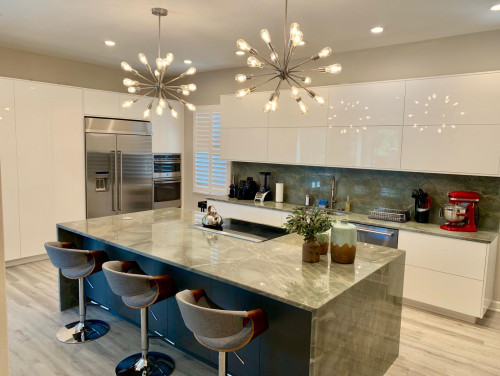 a luxury and elegant kitchen with white flat-panel cabinet and green marble backsplash
Sleek white flat-panel kitchen cabinets not only look clean but are modern and fresh. If you want to add a touch of luxury and elegance to your kitchen, adding some lighting is a good choice, which will make the space feel cozy and create a harmonious and warm atmosphere. Of course, the same goes for marble. Marble backsplashes and countertops present an unparalleled aesthetic, bringing a sense of movement to the interior space. Three counter stools around the island provide seating and create a sense of spaciousness.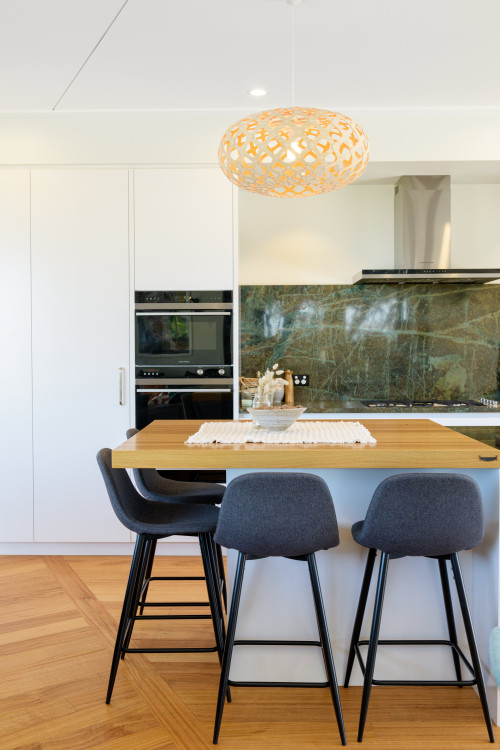 modern kitchen with exquisite pendant lighting and microwave ovens
The exquisite chandelier immediately attracts attention! And its novel appearance is a great addition to the kitchen. Clean, unpretentious white kitchen cabinets are paired with a matte microwave for a modern chic look, creating a one-of-a-kind look. A green marble backsplash and stainless steel range hood eliminate distractions, creating consistency and clean lines. Wood-toned countertops and wood floors give the space a sense of freshness and lightness.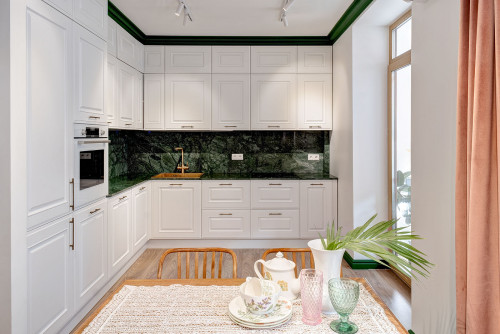 white shaker kitchen cabinets with green marble backsplash and wood flooring
There is no lack of storage space in this stylish white shaker kitchen! These white shaker kitchen cabinets are perfect for large families that need lots of space for food and utensils. With this cabinet design, the eye is immediately drawn to the beautiful paneled doors. A green marble backsplash is added to break up the monotony and enhance the aesthetic of the interior. To blend in with the backsplash, gold faucets are used to add a touch of luxury. The wood-toned dining table complements the wood floorboards, making the space feel comfortable and creating a harmonious atmosphere.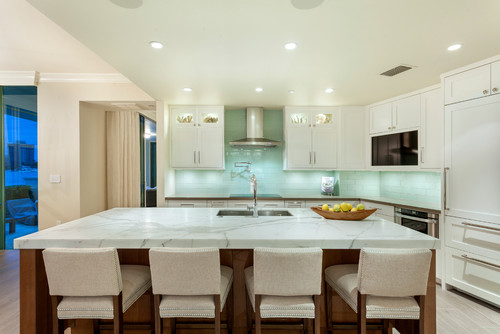 contemporary kitchen with white marble countertop and beige counter stools
A green backsplash creates a bright visual effect in the kitchen; a bright and fresh look works well in many situations; it is also modern and fresh, creating fresh ideas. The subtle lines of the white marble countertop enliven the surface, making it feel comfortable and perfect for dining. The beige counter stools with wood details bring a sense of warmth to the surroundings. The undermount sink and marble are fused together for a more clean and beautiful look.
polished marble kitchen backsplash
Marble is the closest thing to a timeless material in home design. A marble backsplash is one way to bring this timeless quality into your home, enhancing the look of any room. A marble backsplash is both classic and modern. They are the perfect addition to the kitchen or any room in your home that needs wall protection. Also, when you install a marble backsplash, you can request polished marble, which has a shiny, glass-like appearance. Due to its very nature, marble is very porous and not resistant to stains. However, polished marble is easier to maintain if the stain is wiped off immediately, so liquids do not seep into the surface.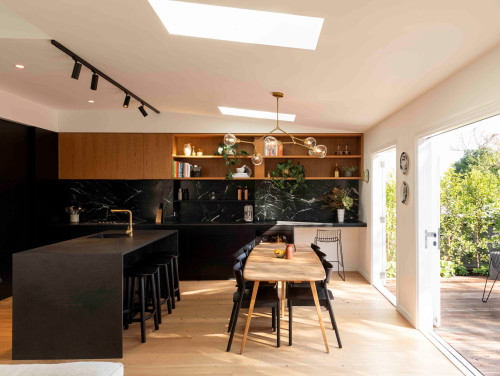 contemporary kitchen with track lighting kits and polished marble backsplash
The perfect encounter of black and natural wood! High-quality finishes and details lead to a brand new kitchen layout. The countertops are black slate, and the backsplash is polished green marble. The two form an eclectic look that evokes a sense of luxury and class. The backsplash contrasts with the natural oak used for the cabinets and open shelving on the adjacent wall. Black track light kits and exquisite pendant lights present their own different colors, enriching the kitchen.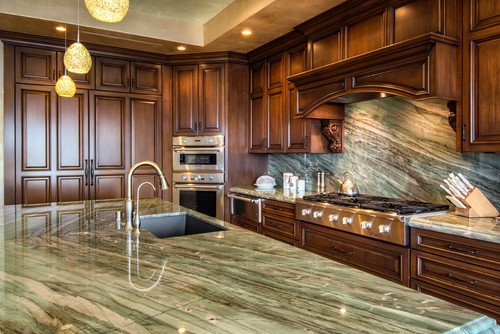 a vintage atmosphere with polished marble backsplash and countertops
The earthy retro cabinets create movement throughout the space and almost steal all the attention. Find ways to enhance the charm of your kitchen by incorporating texture into as many parts of your design as possible. And the polished marble backsplash and countertop accents define this charming, timeless look. Their high-end, luxurious look adds to the ambiance. Three bright pendant lights illuminate the backsplash to make it prominent.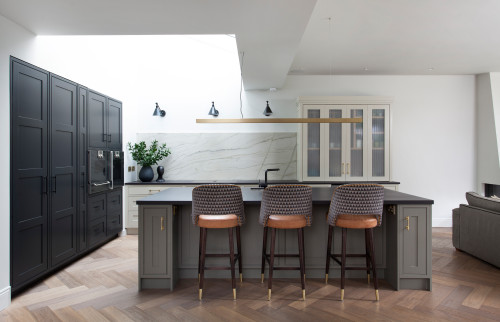 a clean & plain kitchen with black shaker cabinets and wall lamps
A gray island is a great option for those who want a subtle contrast to black shaker kitchen cabinets. Gray kitchen cabinets and black countertops create a distinct look with brass finger handles that exude high-end and character. Black wall lamps produce a bright effect on the small marble backsplash, and potted plants add a sense of nature. The wood flooring and bar stools with wood-toned details complement each other while adding a touch of glamour to the kitchen.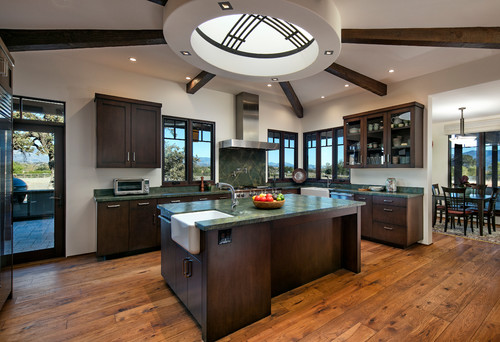 transitional kitchen with trendy ceiling design and marble backsplash
The combination of natural wood beams and large lighting fixtures creates a stylish new look while bringing a warm and fresh atmosphere to the interior. Glass-front cabinets on the upper and lower cabinets provide convenience with no lack of storage space in the kitchen. The marble backsplash extends all the way to the countertop, adding to the dynamic feel of the interior. It is worth noting that the undermount sink on the center island is white, and the sink blends with the marble countertop, while the wood kitchen cabinets below form an eclectic look and create a novel feeling.
ming green marble kitchen backsplash
Ming green marble tiles have a similar elegance; the green tone is charming and understated, with elegance, sophistication, and enduring beauty. Ming green marble mosaic tiles can be securely mounted on a fiber mesh backing. Its water absorption is less than 0.5%. It's a great choice of flooring and wall covering for your home or business, makes an eye-catching kitchen backsplash tile unit, easily brings a soft atmosphere to your space, and adds a touch of modern style to your decor.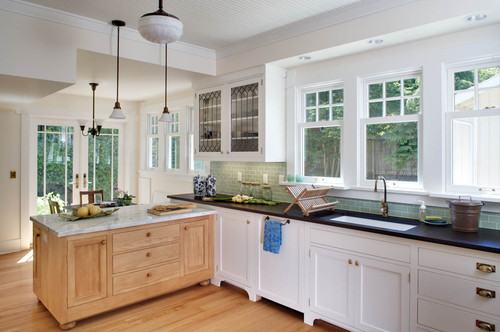 Victorian Kitchen with ming green marble backsplash and wood cabinets
Here, a low wood cabinet combined with a marble countertop acts as a boundary between this kitchen and the adjacent dining table. In the meantime, it complements the wood floors, creating a warm atmosphere. White shaker kitchen cabinets and black countertops combine for a classic combination that provides a great contrast. The addition of a Ming green marble backsplash adds visual interest to the kitchen, giving it a bright feel.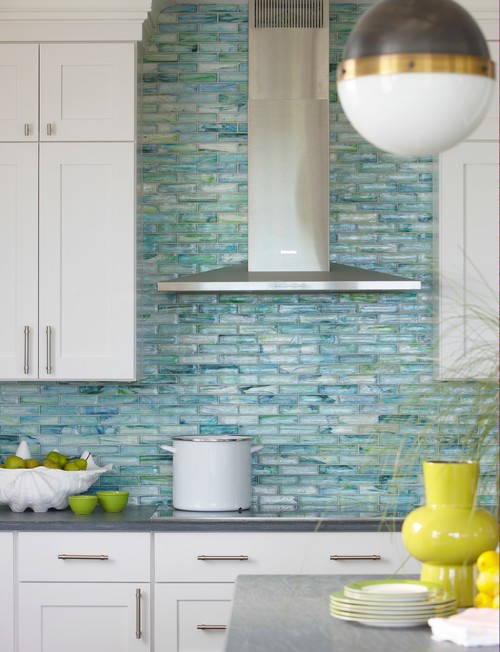 Beach Style Kitchen with pendant lighting and ming green marble backsplash
The Ming green backsplash is instantly the center of attention thanks to its bright and luxurious look that expresses personality and sophistication. Moreover, the stainless steel range hood is perfectly integrated with it, without any sense of incongruence, giving it a delicate appearance. From this angle, the novel chandelier seems to be integrated with the backsplash, creating an optical illusion. A variety of decorative accessories and utensils bring a homey feel to the kitchen.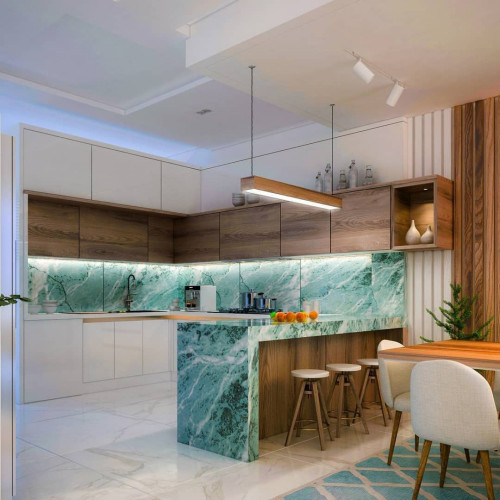 modern kitchen with ming green marble backsplash and countertop
What is particularly novel about this kitchen is the Ming green backsplash. The bright appearance extends all the way to the countertop, presenting a "waterfall" streamlined appearance that makes people feel comfortable. A high-end luxury look adds style to wood-toned cabinets that lend a subtle sophistication. White flat-panel kitchen cabinets on the ground floor balance this bright look and complement the porcelain floor tiles for a consistent and clean look.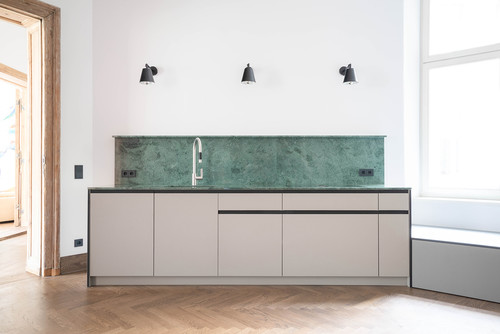 a simple design kitchen with wall sconces and wood floorboard
With such a simple and unpretentious kitchen design, almost all items can be seen at a glance. Although the kitchen is a bit small, it has everything, and it can be regarded as a "competent" kitchen. The Ming green backsplash catches people's eyes while at the same time guaranteeing protection against dirt. A black wall sconce above it provides a bright light for working and complements the center island. The addition of a wood floor brings a unique pop of color to a white kitchen design while creating a warm ambience.
travertine tile kitchen backsplash
Travertine, being a naturally occurring sedimentary rock, has various benefits that make it excellent for usage around sinks. One of these benefits is that it is sturdy and durable, making it excellent for wall protection. The shaping process keeps it under pressure, which is ideal for making sure it does. Travertine tile kitchen backsplashes are very appealing, and because they come in a variety of colors, you can simply use them to bring your artistic ideas to life.
You can create a rustic backdrop by installing travertine tiles in an irregular pattern or by installing specific tiles in a regular pattern based on their color and size. This contributes to the interior space's texture and warmth.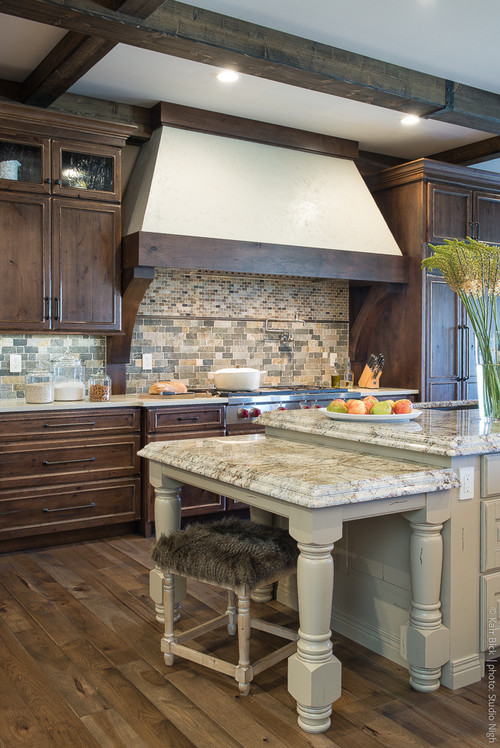 rustic kitchen with Travertine Tile Backsplash and marble countertop
Wood-toned cabinets and wood flooring that complement the natural light and travertine tile backsplash. A range hood in white and wood adds a touch of rusticity. The criss-cross pattern on the backsplash gives a sense of lightness, and one can't help but count how many there are. The marble countertop presents a "step-shape," adding a sense of luxury to the kitchen. Plus, the plush counter stools are equally fresh in their design.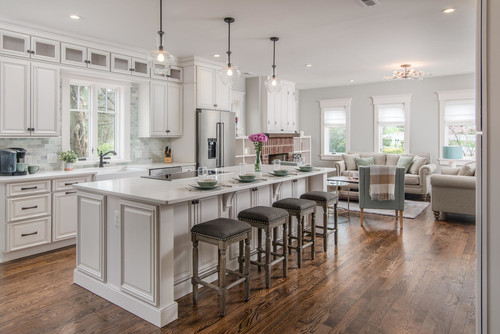 Craftsman Kitchen with Creamy cabinetry and Travertine Tile Backsplash
Fully equipped kitchen with all kinds of utensils! Cream kitchen cabinets with caramel pinstripe detailing bring a fresh feel to the kitchen, which together with the wood floorboards creates a warm sophistication. Elevated cabinet details rise to the ceiling, creating a sense of spaciousness. Glass display shelves provide convenience and storage space. The spacious island provides a quality setting for gathering and dining with a sense of comfort.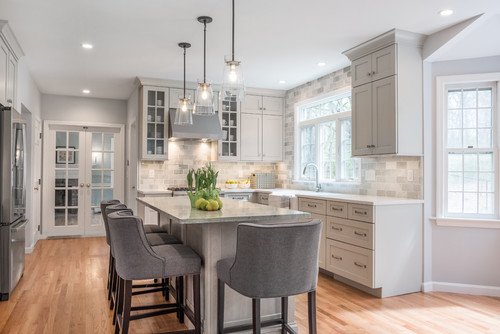 transitional kitchen with bar stools and Travertine Tile Backsplash
The look of the white shaker kitchen cabinets creates a classic look, with silver knobs and finger pulls for a chic modern look. The presence of a travertine tile backsplash makes a statement in the kitchen, and with the help of lighting, it stands out, bringing a subtle sophistication. Gray bar stools surround the center island, adding color and freshness to the luxurious feel created by the marble. The addition of wood floors brings a touch of rustic charm while injecting energy.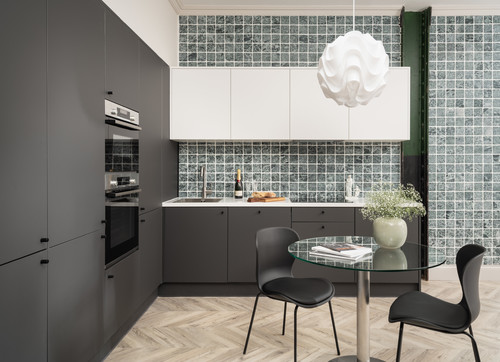 contemporary kitchen with white and black flat-panel cabinets
Sometimes you want a classic black and white look, and if your kitchen has crisp white kitchen cabinets, black flat-panel kitchen cabinets and white ones can make a difference. The white pendant light suspended from the ceiling immediately attracts attention and becomes the visual center. And it provides a beautiful landscape for the dining table. The green backsplash looks bright and stylish, and it does a great job of highlighting the cabinet's important place. Wood-toned floors bring warmth to the entire kitchen look.
Is travertine OK to use in kitchen backsplash?
Travertine is a warm, neutral stone that adds modest beauty to any kitchen environment. Serving as a backdrop rather than a focal point in the kitchen, a backsplash made of travertine tile is a popular choice for homeowners searching for a simple kitchen remodel. Travertine is a kind of limestone that is porous and semi-soft for backsplashes. This is not a problem, but it will require a coat or two of sealant to help keep mold and mildew at bay.