about white glass tile kitchen backsplash
White glass tile kitchen backsplashes, with diversified styles, are a popular choice in many homes, bringing a sparkling and lively tone to the interior. Glass tiles themselves contain a glassy substance that makes it easier for you to wipe up spills or dirt on them. A glass tile kitchen backsplash can fetch a great deal of visual appeal, variety, and color to your kitchen design. In many modern homes, cabinetry is designed with simple, clean lines and a single color, so a glass tile kitchen backsplash is often a great place to take a crack at bold designs, patterns, and colors.
A white glass tile kitchen backsplash is definitely a great way to add color and visual interest to your kitchen. You will find that its clean, smooth finish can be added with trendy patterns and an even more unique style, making your kitchen backsplash one of a kind. More importantly, it is available in almost endless styles, colors, shapes, and sizes.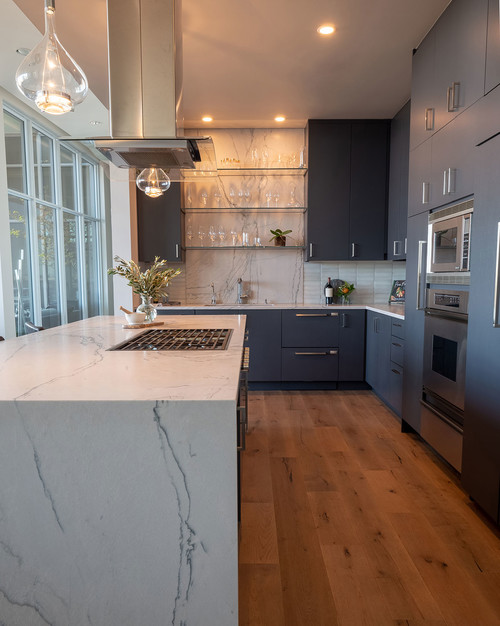 White Glass Tile Backsplashes with Blue Flat-Panel Cabinets in A Modern Kitchen
Let me first talk about the lighting effect, which creates a full sense of atmosphere. Most of the lights are projected on the finish of the quartzite backsplash, bringing the lines and textures on the finish to life and creating a sense of luxury. Second, this kitchen masterfully synthesizes white glass tile backsplash with quartzite backsplash to create a striking contrast that evokes both visual and tactile interest. Blue flat-panel kitchen cabinets have a clean and sleek look, with silver finger pulls for a sleek look. It is worth noting that the whole quartzite countertop of the central island makes the kitchen more dynamic and pulls off the harmonious integrity within the space.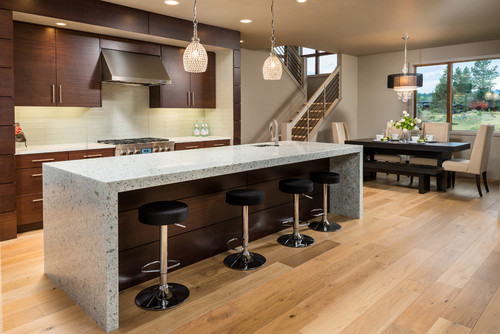 Open Concept Kitchen with Recycled Glass Countertops and Glass Tile Backsplash
The first thing that catches the eye is the kitchen island with colorful waterfall edges, which has a novel appearance and a sense of artistic atmosphere. It blends in with the undermount sink for a more streamlined and beautiful look. At the same time, four black counter stools provide a stark contrast. Dark wood cabinets have a classic, sleek look with their clean lines, and a glass tile backsplash accentuates the contrast.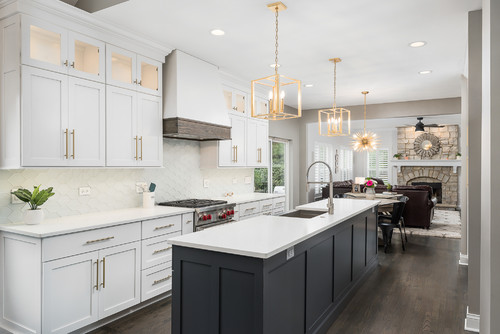 A Fresh Look with Glass Tile Backsplashs and Dayja Pendant Lamp
The design of this kitchen is very distinctive, and it seems that it has worked hard in terms of decoration and design. For example, the pendant lights on the ceiling. The golden yellow appearance is slightly luxurious, and there is a pendant lamp with a sense of design, which not only looks novel but also almost steals all the attention. A golden hue balances the bland tones of the white shaker kitchen cabinets. The patterned white glass tile backsplash, at the same time, adds to the visual impact. And the blue shaker cabinets rise to prominence with the help of dark wood-toned floors, enhancing the contrast.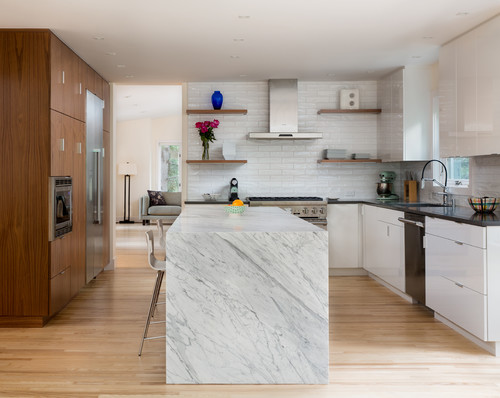 White Flat-Panel Kitchen Cabinets with Plastic Flooring and Glass Tile Backsplash
The marble island occupies the majority of the center of the kitchen, adding visual impact. Its streamlined lines and textures accentuate its unique character. The smooth finish of the white flat-panel kitchen cabinets creates a bright effect. Against a neutral background, it harmonizes perfectly with the addition of the white glass tile backsplash, while at the same time complementing it to create a stylish look. Plastic flooring also adds color and richness to kitchens with its bright appearance.
Pros and Cons of a Glass Tile Backsplash
Are you considering installing a new backsplash in your kitchen or bathroom? A backsplash may add character and beauty to your kitchen, whether you're remodeling or starting from scratch. Glass tiles are the most beautiful material for walls above worktops. To assist you in making the best decision, learn more about the pros and cons of glass tile.
Prons
1. Providing a unique look, glass tiles are the ideal option for making a strong style statement in a room that is otherwise practical since they come in an infinite variety of eye-catching hues and transparency.
2. Increasing glass's unique ability to shimmer since glass tiles will reflect light, making your kitchen look larger and brighter.
3. It is stain-resistant and easy to clean and maintain.There are several eco-friendly and fashionable recycled glass solutions available if you wish to employ green building materials in your kitchen.
Cons
1. It might be pricey. If you need to cover a large area, your ability to employ multiple types of tiles can be constrained by your budget.
2. It can be tricky to install. Although they are very durable once installed, glass tiles are fragile in their original shape.
3. It can be difficult to repair while being easy to clean, but shiny glass tiles do show fingerprints and smudges.
white glass subway tile kitchen backsplash
The popularity of subway tile for kitchen backsplashes is not surprising. They're probably the timeless choice for many homes since they're affordable, simple to maintain, and adaptable. Whether you're remodeling your kitchen or simply looking for some interior design inspiration, subway tile backsplash can help.From imaginative layout concepts to colorful variants, it can create a hip, dramatic feel to the kitchen.
White subway tile is a great option for a kitchen backsplash because it gives the area a modern, fresh feel while still allowing for a lot of creative freedom. It can be said that choosing a white subway tile backsplash for your kitchen is the simplest and most sensible method to achieve your goals. Far from being boring, a white subway tile kitchen backsplash is a staple design element of any kitchen with the right design solution.
A Trendy U-Shaped Kitchen with Glass Subway Tile Backsplash and Marble Island
In this plain and simple kitchen, blue shaker kitchen cabinets lend an eye-catching look as well as a cozy feel. The addition of silver finger pulls creates a stylish look while providing convenience. A white subway tile backsplash complements the blue cabinets for a classic yet stylish look while making a statement. The marble island lends a luxurious ambiance with its majestic presence, and three chic counter stools accentuate this luxury. The presence of potted flowers adds a biophilic touch to the kitchen.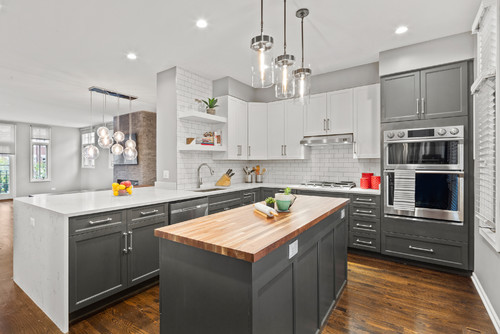 Modern Kitchen with Subway Tile Backsplash and Recessed-Panel Cabinets
Gray is the main color in this kitchen, with the calmness of black and the experience of white, presenting a harmonious sense of the picture. Grey shaker cabinets paired with recessed-panel cabinets create a sleek look that has a rustic charm. Notably, the mash-up of white subway tile backsplash, quartz countertops, and white shaker cabinets makes the grey kitchen cabinets stand out and create a strong contrast.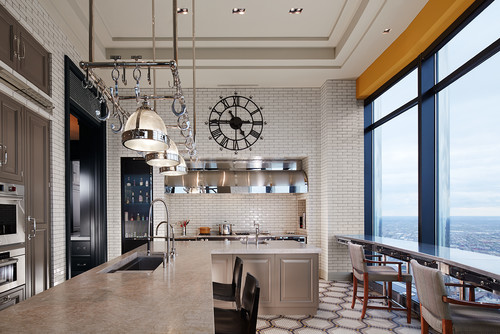 Trendy Multicolored Floor Kitchen with Glass Subway Tile Backsplash and Wall Clock
This kitchen looks so cool! It can be said that the whole design is quite high-end and luxurious. The coverage of the white subway tile backsplash evokes visual interest, and the addition of a stylish wall clock adds a lot of color and a sense of vintage vibe. Speaking of luxury, the design of this kitchen's pendant light is quite exquisite, with a high-end look that adds charm to the room. What's more, the kitchen features a colored floor that complements the island, enriching the color scheme of the whole kitchen.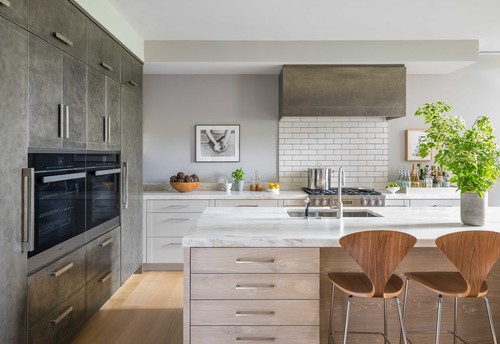 A Light Wood Floor Kitchen Design with Grey Flat-Panel Cabinets and Bar Stools
The color scheme of this kitchen is quite rich, and various decorative elements, designs, and styles are integrated to bring variety. The matte finish of the grey cabinets lends a cozy feel and is combined with the stainless steel furniture for a balanced look. The light wood floor complements the central island, bringing a warm feeling, and the wooden benches and flowers set off a sense of nature. A subway tile backsplash makes a difference in this small kitchen. The paintings on the wall bring an artistic atmosphere to the kitchen.
Will Glass Subway Tile Go Out of Style?
Glass subway tiles are extremely practical and long-lasting, so they will never go out of style. It offers a variety of distinct designs in addition to having the flexibility to accommodate various styles. There are many various colors, designs, and textures available for glass subway tile. Because of its adaptability, glass subway tiles may be used in many different tile and furniture combinations. This saves time, effort, and money since glass subway tiles require little to no upkeep.
black and white kitchen with glass tile backsplash
A black and white kitchen backsplash can match the other colors in the room. As a result, the black and white kitchen backsplash design elegantly enhances the modern kitchen design while looking harmonious with various hues. Dreamy kitchen designs are heralded by innovative contrasts of soft and warm or stark and chilly, such as a black and white kitchen with a white glass tile backsplash, which give individuality to contemporary interiors and aid in creating a well-balanced, light, and attractive kitchen design.
In any kitchen, a white glass tile kitchen backsplash is a wonderful touch. Glass reflects light and may enhance the brightness and vibrancy of a black-and-white kitchen. The best backsplash for decoration is one made of glass tiles. If you want to create a bold design in a very functional space, white glass tile backsplashes are definitely the best option you can have. It is another great, customizable way to incorporate glass tile into your kitchen.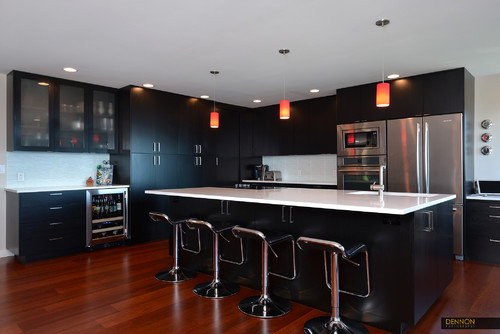 Black and White Kitchen with Quartz Countertops and Glass Tile Backsplashs
Black has a dignified presence and a statement of personality in this kitchen. Its matching silver finger pulls provide a strong contrast, and the incorporation of stainless steel appliances enriches its look and lends a rustic feel. Black and white combinations can be said to be the eternal choice of many homeowners. The central island here is a combination of black and white quartz countertops, forming a sharp contrast. And the appearance of dark wood flooring brings a more warm and earthy feeling to the kitchen.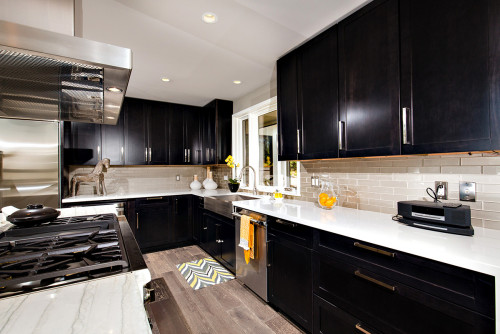 Black Shaker Kitchen Cabinets with Stainless Steel Appliances and Solid Surface Countertops
The black, elegant disposition embodies its unique characteristics, and the smooth surface has a reflective effect with the help of lighting effects, bringing a rustic and bright feeling. The addition of a glass tile backsplash accentuates the contrasting color of the solid surface countertops, and not just one solid countertop but also a marble countertop, a very creative design touch that enriches the kitchen's color scheme. Notably, a small rug placed on the floor adds warmth to the kitchen.
Farmhouse Kitchen with Black Range Hood and Glass Tile Backsplashs
The line-shaped glass tile backsplash can be said to be a major feature of this kitchen, and it also has a reflective effect, bringing a bright feeling. In particular, the black range hood on the backsplash has a novel and simple appearance, forming a sharp contrast with it. The light wood floor seems to be the support of the kitchen, emphasizing the black and white contrast of the central island, and this contrast creates a sense of harmony for the kitchen. The mash-up of gold and black faucets adds a luxurious feel to the kitchen.
Is it easy to maintain a glass tile backsplash?
Shoot Fish in a Barrel! Glass tile backsplashes are of scratch-and-stain resistant as well as versatile, making them a great choice for many homes. Because of its position, your kitchen backsplash needs to be able to withstand years of wear and tear. Let's say you are gathering with friends or teaching your kids how to cook. It is very likely that your wall tiles will get dirty. Glass tiles are ideal for kitchen backsplashes due to their non-porous and stain-resistant properties. That also means it's free from bacteria and germs! When your backsplash gets dirty, all it takes is a bottle of glass cleaner and a sponge to keep your glass tiles looking great.
kitchen with white glass tile backsplash & bar stools
For those of you who spend a lot of time in the kitchen, the heart of the home, it's important to create a stylish look that you'll love for years to come. There are so many decisions to consider when it comes to kitchen design, and deciding on the options can be overwhelming. However, a kitchen backsplash is the most fun and personal decision you can make to reflect your style. Of all these decisions, a white glass tile backsplash is the most classic and timeless choice for any kitchen. Because it can be paired with any color scheme and design aesthetic, its unique aesthetic adds value. A kitchen island, nevertheless, isn't complete without stylish seating, bar stools bring a fresh look to your kitchen instead, creating a clean and inviting aesthetic that will impress your guests. Choose the right bar stool, and your kitchen will become the go-to place for social gatherings.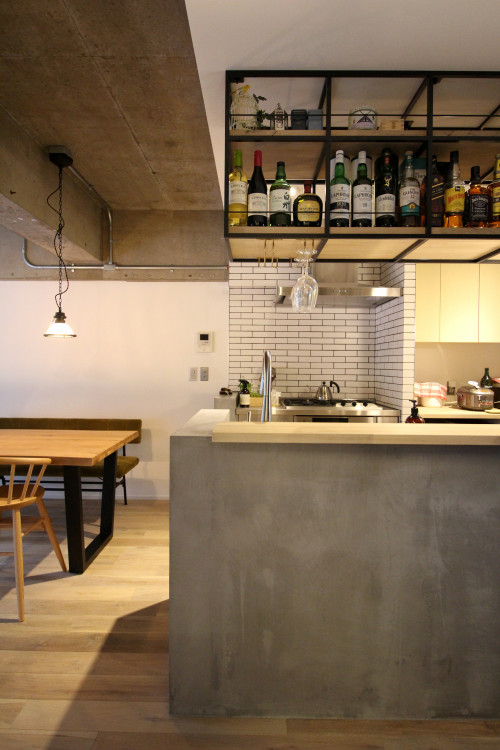 Industrial Kitchen with Glass Subway Tile Backsplash and Dining Tables
The glass tile backsplash shines out in this small, austere industrial kitchen, giving the space a feeling of airiness and movement. Naturally, the ceiling at this position is also quite artistic, and the designs on the two sides are very diverse. Warm and rustic lighting from simple pendant lights illuminates the dining table and chairs. For a fashionable appearance, the concrete island is coupled with a beige top.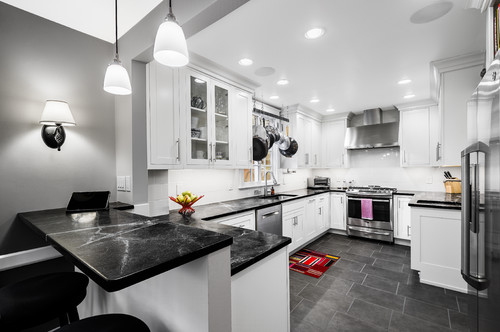 Eat-In Kitchen with Porcelain Tile and Black Bar Stools
At first glance, you should be attracted by the stepped island. The design of the high and low island is combined with soapstone countertops and white kitchen cabinets, especially the soapstone ones, which have a novel and fashionable appearance and bring visual pleasure. Placing two black bar stools at the same time reinforces the contrast. A glass tile backsplash sets the white shaker cabinets apart because of their reflective effect, and it adds color to the kitchen by contrasting with the porcelain tile floorboard.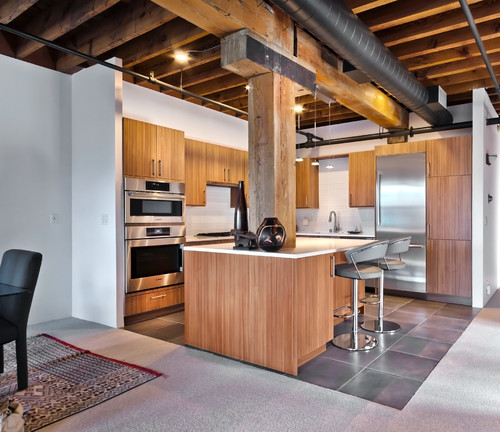 A Mid-Sized Kitchen with Glass Tile Backsplash and Grey Bar Stools
With its clean lines and detailed textures that give it a warm, rustic feel, a mid-tone wooden panel cabinet like this one is ideal for an industrial kitchen. It also harmonizes with the ceiling creating a chic and contemporary appearance. Notably, the vertically arranged wooden planks in the middle island have an artistic and industrial feel, which not only adds color to the kitchen but also piques viewers' interest. Grey bar stools look great in the kitchen and go well with the stainless steel furniture.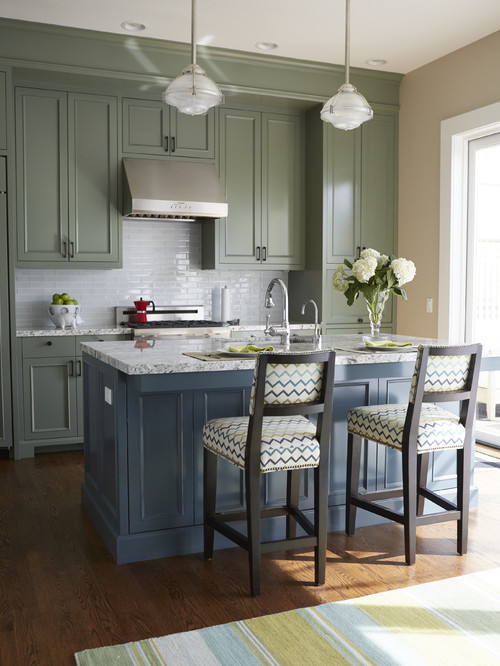 Transitional Kitchen with Glass Tile Backsplashs and Granite Countertops
The open and airy kitchen gives people a comfortable and warm feeling, while the light reflected from the outside makes the kitchen brighter and enhances the light effect. Grey shaker kitchen cabinets and granite countertops reflect a lifelike sense of movement without any sense of dissonance, giving them a stylish look. Two bar stools around the perimeter enrich the color of the kitchen and produce warmth. A glass tile backsplash makes a statement with its bright, clear look, creating an eclectic look.
how to clean and maintain glass tile backsplash?
Use a non-abrasive cleaner and a soft brush or cloth so your glass tile doesn't get scratched.
To remove soap scum
Use a solution of equal parts warm water and white vinegar. Spray the surface and let it sit for a few minutes before wiping it off.
For stains caused by hard water
Wipe the tiles with a soft cloth or brush, rinse with cold water, and dry.
For regular cleaning
Use warm water and a teaspoon of mild dish soap. Spray the backsplash and wipe it with a damp cloth or sponge. Wipe the surface dry when finished to avoid hard water spots.
Traditional kitchen with glass tile backsplash ideas
The traditional kitchen is still among the most popular kitchen designs, despite the popularity of modern and farmhouse layouts. Their simple color scheme and expansive design concept provide a stunning room that will undoubtedly be in style for a very long time. The use of ornamental accents and meticulous attention to detail are the hallmarks of a traditional design kitchen. Over the past few years, homeowners have started to choose backsplashes with vibrant hues and eye-catching designs made of novel materials. However, a complex backsplash might appear overpowering and complicate the room in a traditional kitchen.
Glass tile backsplashes are available in many different hues and designs instead. For instance, a glass mosaic tile backsplash can add color and light to a space, and a modern subway glass tile backsplash can give a traditional kitchen a modern twist. Whatever you decide, glass tile backsplashes look fantastic, reflect light and color, and are resilient to spills and moisture.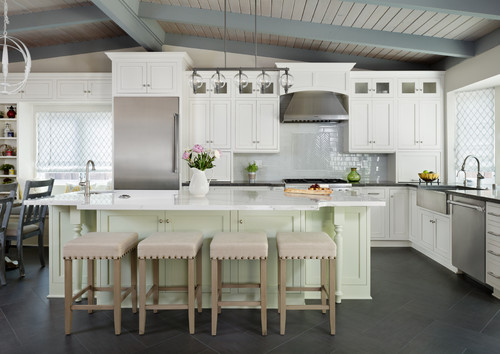 Elegant Transitional Kitchen with A Farmhouse Sink and Grey Glass Tile Backsplash
The unique style and unexpected combinations of the transitional kitchen create a captivating look. The grey glass tile backsplash stands out between the white shaker kitchen cabinets and black quartz countertops, creating a tri-color contrast that evokes visual and tactile interest. To emphasize the kitchen, black ceramic tile flooring brings a sense of movement to the room. A simple farmhouse undermount sink is integrated with an island for a simple, beautiful look.
Sophisticated Family Kitchen with Glass Tile Backsplashs and Quartzite Countertops
What an exquisite and magnificent kitchen! The first thing that catches the eye is the freshness of the glass tile backsplash, a mirror-like finish that looks quite elegant. The open glass shelves complement it, providing convenience. With gold finger pulls and knobs, white shaker kitchen cabinets appeared luxurious. The finish on the quartz countertop flows like lines, and the texture is clear, lending a comforting feel. Notably, several glass pendant lights on the ceiling add elegance to the kitchen.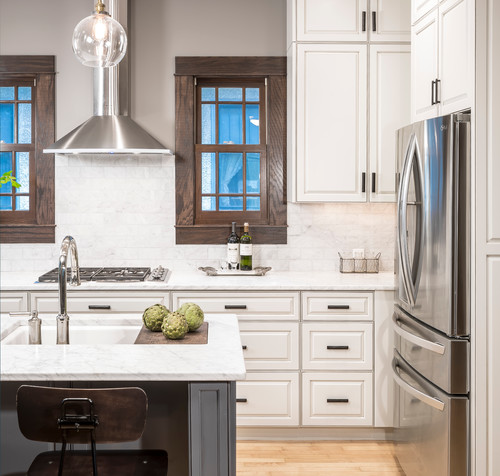 Traditional Kitchen with Black Cabinet Pulls and Marble Countertops
Due to the effect of the lighting, a sense of warmth and a feeling of home appeared in this kitchen. The glass tile backsplash and marble countertops complement the white shaker kitchen cabinets, and their matching black cabinet pulls provide a nice contrast for a sleek look. Wood-grain window trim also adds color to the backsplash and brings warmth to the kitchen. Stainless steel built-in cabinets look hip, and the incorporation of white shaker cabinets can be said to be the icing on the cake.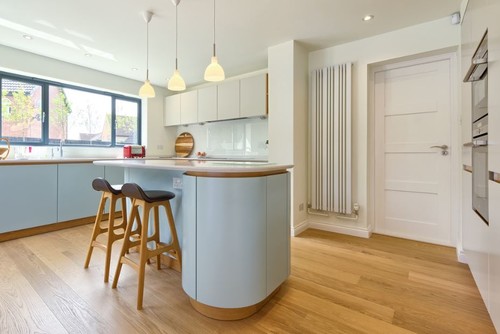 Scandinavian Kitchen with Lacquered Glass Tile Backsplash and Blue Cabinets
This kitchen has a lovely layout! Particularly the central island's design, which pairs a blue flat-panel kitchen cabinet with a wooden countertop, is fresh and stylish, giving visitors a cozy and homey sense. Glass tile backsplashes make white flat-panel kitchen cabinets stand out. For example, glass may reflect light, giving the appearance of more brightness and space in cabinets and even kitchens. For those seeking a sleek, contemporary aesthetic for their kitchen, glass tile backsplashes are a fantastic option. The kitchen's overall dynamic feel is emphasized and given warmth by the light wooden floor.
Does glass tile backsplash need grout?
While grouting won't add stability to your backsplash tile during installation, you'll still need to grout the tile. Even small grout lines need to be filled with grout. If you don't do that, food and water can get in the openings and damage the tiles and walls. Choosing the right grout is important for any tile installation, but even more so when it comes to glass tile backsplashes. We recommend using unsanded grout, as the coarse particles in sanded grout can scratch the surface of your new glass trim.